"Krishna Ki Chetavani (Rashmirathi)" is a devotional song that beautifully reimagines the timeless verses from the Hindi epic "Rashmirathi," penned by the renowned poet Ramdhari Singh 'Dinkar.' This song is a fusion of modern rap and classical poetry, a unique blend that adds a fresh and contemporary touch to the epic's profound teachings.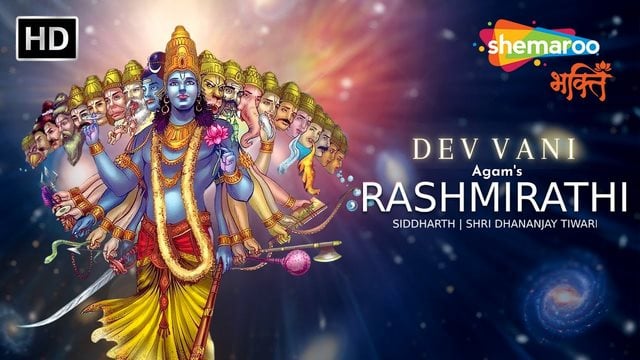 The lyrics of "Krishna Ki Chetavani (Rashmirathi)" take us on a journey through the epic's narrative, focusing on the pivotal moment when Lord Krishna arrives in Hastinapur to mediate between the Pandavas and the Kauravas. The song masterfully encapsulates the essence of this moment, where Krishna, the divine charioteer and guide, offers wisdom and a path to righteousness.
Agam Aggarwal and Siddharth Sharma's rendition of the lyrics infuses the verses with a vibrant energy, making the ancient teachings feel alive and relevant today. Their rap-style delivery adds a contemporary flair to the song while respecting the classical roots of the poetry.
KRISHNA KI CHETAVANI (RASHMIRATHI) SONG LYRICS
Varshon Tak Van Mein Ghoom-ghoom,
Baadha-vighnon Ko Choom-choom,
Sah Dhoop-ghaam, Paanee-patthar,
Paandav Aaye Kuchh Aur Nikhar.
Saubhaagy Na Sab Din Sota Hai,
Dekhen, Aage Kya Hota Hai.
Maitree Kee Raah Bataane Ko,
Sabako Sumaarg Par Laane Ko,
Duryodhan Ko Samajhaane Ko,
Bheeshan Vidhvans Bachaane Ko,
Bhagavaan Hastinaapur Aaye,
Paandav Ka Sandesha Laaye.
'do Nyaay Agar To Aadha Do,
Par, Isamen Bhee Yadi Baadha Ho,
To De Do Keval Paanch Graam,
Rakkho Apanee Dharatee Tamaam.
Ham Vaheen Khushee Se Khaayenge,
Parijan Par Asi Na Uthaayenge!
Duryodhan Vah Bhee De Na Saka,
Aasheesh Samaaj Kee Le Na Saka,
Ulate, Hari Ko Baandhane Chala,
Jo Tha Asaadhy, Saadhane Chala.
Jab Naash Manuj Par Chhaata Hai,
Pahale Vivek Mar Jaata Hai.
Hari Ne Bheeshan Hunkaar Kiya,
Apana Svaroop-vistaar Kiya,
Dagamag-dagamag Diggaj Dole,
Bhagavaan Kupit Hokar Bole-
'zanjeer Badha Kar Saadh Mujhe,
Haan, Haan Duryodhan! Baandh Mujhe.
Alakh Niranjan Bhav Bhay Bhanjan
Janam Naranjan Data, Janam Naranjan Data
Sankat Mit Hain Chhan Mein Uske
Jo Nar Tumko Dhyata,jo Nar Tumko Dhyata,
Shrivan Narayan Narayan Hari Hari
Bhajman Narayan Narayan Hari Hari
Yah Dekh, Gagan Mujhamen Lay Hai,
Yah Dekh, Pavan Mujhamen Lay Hai,
Mujhamen Vileen Jhankaar Sakal,
Mujhamen Lay Hai Sansaar Sakal.
Amaratv Phoolata Hai Mujhamen,
Sanhaar Jhoolata Hai Mujhamen.
'udayaachal Mera Deept Bhaal,
Bhoomandal Vakshasthal Vishaal,
Bhuj Paridhi-bandh Ko Ghere Hain,
Mainaak-meru Pag Mere Hain.
Dipate Jo Grah Nakshatr Nikar,
Sab Hain Mere Mukh Ke Andar.
'drag Hon To Drshy Akaand Dekh,
Mujhamen Saara Brahmaand Dekh,
Char-achar Jeev, Jag, Kshar-akshar,
Nashvar Manushy Surajaati Amar.
Shat Koti Soory, Shat Koti Chandr,
Shat Koti Sarit, Sar, Sindhu Mandr.
'shat Koti Vishnu, Brahma, Mahesh,
Shat Koti Jishnu, Jalapati, Dhanesh,
Shat Koti Rudr, Shat Koti Kaal,
Shat Koti Dandadhar Lokapaal.
Zanjeer Badhaakar Saadh Inhen,
Haan-haan Duryodhan! Baandh Inhen.
Alakh Niranjan Bhav Bhay Bhanjan
Janam Naranjan Data, Janam Naranjan Data
Rakhte Charan Mein Apne Bhagat Ko
Mann Nirmal Ho Jata! Mann Nirmal Ho Jata!
Shrivan Narayan Narayan Hari Hari
Bhajman Narayan Narayan Hari Hari
'bhoolok, Atal, Paataal Dekh,
Gat Aur Anaagat Kaal Dekh,
Yah Dekh Jagat Ka Aadi-srjan,
Yah Dekh, Mahaabhaarat Ka Ran,
Mrtakon Se Patee Huee Bhoo Hai,
Pahachaan, Isamen Kahaan Too Hai.
'ambar Mein Kuntal-jaal Dekh,
Pad Ke Neeche Paataal Dekh,
Mutthee Mein Teenon Kaal Dekh,
Mera Svaroop Vikaraal Dekh.
Sab Janm Mujhee Se Paate Hain,
Phir Laut Mujhee Mein Aate Hain.
'jihva Se Kadhatee Jvaal Saghan,
Saanson Mein Paata Janm Pavan,
Pad Jaatee Meree Drshti Jidhar,
Hansane Lagatee Hai Srshti Udhar!
Main Jabhee Moondata Hoon Lochan,
Chha Jaata Chaaron Or Maran.
'baandhane Mujhe To Aaya Hai,
Zanjeer Badee Kya Laaya Hai?
Yadi Mujhe Baandhana Chaahe Man,
Pahale To Baandh Anant Gagan.
Soone Ko Saadh Na Sakata Hai,
Vah Mujhe Baandh Kab Sakata Hai?
Alakh Niranjan Bhav Bhay Bhanjan
Janam Naranjan Data, Janam Naranjan Data
Chakra Gadaa Kar Kamal Dhare
Dekhat Mann Ati Sukh Paata,
Dekhat Mann Ati Sukh Paata.
Shrivan Narayan Narayan Hari Hari
Bhajman Narayan Narayan Hari Hari
'hit-vachan Nahin Toone Maana,
Maitree Ka Mooly Na Pahachaana,
To Le, Main Bhee Ab Jaata Hoon,
Antim Sankalp Sunaata Hoon.
Yaachana Nahin, Ab Ran Hoga,
Jeevan-jay Ya Ki Maran Hoga.
'takaraayenge Nakshatr-nikar,
Barasegee Bhoo Par Vahni Prakhar,
Phan Sheshanaag Ka Dolega,
Vikaraal Kaal Munh Kholega.
Duryodhan! Ran Aisa Hoga
Phir Kabhee Nahin Jaisa Hoga
'bhaee Par Bhaee Tootenge,
Vish-baan Boond-se Chhootenge,
Vaayas-shrrgaal Sukh Lootenge,
Saubhaagy Manuj Ke Phootenge.
Aakhir Too Bhooshaayee Hoga,
Hinsa Ka Par, Daayee Hoga.
'thee Sabha Sann, Sab Log Dare,
Chup The Ya The Behosh Pade.
Keval Do Nar Na Aghaate The,
Dhrtaraashtr-vidur Sukh Paate The.
Kar Jod Khade Pramudit, Nirbhay,
Donon Pukaarate The 'jay-jay'!

The song's video editor, Alok Chouhan, focuses on bringing the lyrics and the essence of "Rashmirathi" to the forefront, The accompanying music video, with its related images and visuals, enhances the storytelling, creating a compelling audio-visual experience.
KRISHNA KI CHETAVANI (RASHMIRATHI) MUSIC VIDEO
"Rashmirathi." They emphasize the importance of justice, friendship, and the consequences of ignoring one's moral duties. The epic's deep philosophical insights are conveyed through powerful metaphors and vivid imagery, making it accessible to a modern audience.
KRISHNA KI CHETAVANI (RASHMIRATHI) SONG DETAILS
Track Name
Krishna Ki Chetavani (rashmirathi)
Singer(s)
Agam Aggarwal, Siddharth Sharma
Lyrics Writer(s)
Ramdhari Singh Dinkar
Composer(s)
Agam Aggarwal