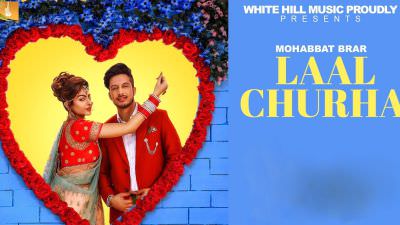 Laal Churha is a romantic song with its Punjabi lyrics sung by Mohabbat Brar, written by Love Bhullar. Mix Singh is producer of song's music and Gurwarinder Singh is director of video.
LAAL CHURHA SONG LYRICS – MOHABBAT BRAR
Suni Gaur Naal
Gal Dil Di Sunauni Aa
Baki Di Vi Zindagi Main
Tere Naam Launi Aa.
Sohn Teri Lage
Jatti Takke Na Kise Nu,
Par Tere Layi Ta Bullan Utte Haan.
Gori Veeni Vich Choora Lal Rang Da
Pauna Soneya Likha Ke Tera Naa'.
Bebe Ji Ne Khush
Teri Photo Main Dikhayi Aa
Sach Dasaan Gall Ae Je Bapu To Lukayi Aa.
Ena Tu Taan Jaan di Aan
Bebe Ji Nu Main Vi
Ohna Laina Bapu Ji Nu Vi Manaa.
Gori Vini Vich Churha Laal Rang Da
Paona Sohneya Likha Ke Tera Naa.
CCD Ch Cofee' an,
Te Gaddi Ch Sairan Da
Mainu Ni Pasand
Eh Rawaaj Jatta Shehran Da.
Rukhi Ni Si Umran Likhaun Tere Nal
Mainu Izzatan Nal Laija Tu Viah
Gori Veeni Vich Churha Laal Rang Da
Pauna Sohneya Likha Ke Tera Naa.
Lod Ve, Lod Ve Teri Lod Ve
Marjungi Khadi Sohneya
Je Tu Mangna Karaya Kite Hor Ve.
Kar-Kar Wait
Katt Le Main Kinne Saal Ve
Laija Doli Ch Bithake
Sultanwind Naal Ve.
Love Bhullar'a Tere Nal
Laavan Leniya Main Char
Mainu Ehna Char Laavan Da Ae Chah
Yeah! Mix Singh In The House.
Gori Veeni Wich Chura Laal Rang Da
Pauna Soneya Likha Ke Tera Naa.