"12:00 AM," also known by its original title "LAJAWAB," is a heartfelt Urdu song about longing and heartbreak. Taimour Baig presents this soulful track, with music by Dizzla D Beats, that appeals to listeners on a deep level.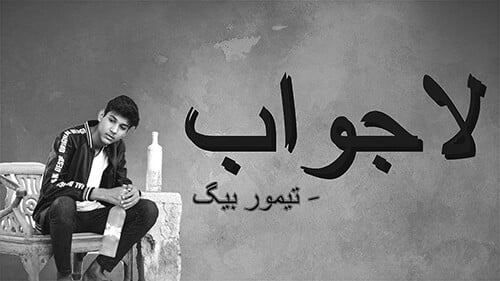 The lyrics of "12:00 AM" are a poignant reflection of a lover's longing. The song's lyrical music video, posted on Taimour Baig's YouTube account, conveys a tale of a lover who patiently awaits the return of his beloved. With each lyrical verse, the singer expresses the depth of his emotions, reminiscing about the cherished moments he shared with his beloved.
The song encapsulates a universal theme: the pain of separation and the hope for a reunion. Through the Lajawab lyrics, the singer poses questions to his absent love, inquiring about the status of their relationship and shared memories. This narrative touch adds depth to the song, making it relatable to anyone who has experienced the pangs of love and distance.
12:00 AM SONG LYRICS
Hum Dono Parhen Faiz Humein Milte Is Se Faiz Nahi
Zindagi Shair Jisme Wazan Kafia He Hi Nai
Samandar Ke Kinaray Bethe Hain Aur Paun Geelay
Leke Aya Pani Unhon'ne Kaha Ap Pee Lain
Aap Janab Bare Pyar Se Bulati Thi Wo
Wo Chale Gayi To Laga, Pyar Kame Wala Nai Hai
Us Ke Ek Sawal Pe Me Lajawab
Aj Jawab He Mere Pas Sawal Karne Wala Nai Hai
Yad He Pehle Roz Kaha Tha
Wafa Karein Ge Ik Dusre Ko Chaha Tha
Tumse Kaha Tha Ke Sorry Nahi Karna Kabhi
Ye Dil Ek Tala Isme Chori Nahi Karna Kabhi
Usi Jurm Me Tu Aj Bhi Ratein Jagti Hai
Pehle Tu Bhagti Thi Reply Tu Mangti Hai
Pehle Taimour Famous Nai Tha Abhi Bhi Famous Nai Hai
Pehle Tu Meri Thi Sirf Ab Tu Kahin Ki Nai Hai
Pehle Tu Meri Thi Sirf Ab Tu Kahin Ki Nai Hai
Meher Posh Main Teri Main Soch Mein
Ek Awaz Bhi Nikalti Tu Mu Se To Mujh Se Poochti Thi
Talluq Kia He Mera Tera
Main Bolta Tha Jo Jism Ka He Rooh Se
Umar Kat Gayi Hai Tere Intezar Mein
Qeematto Qeemat Nai Thi Lagti Hazar Me
Sari Baton Ka Sirf Ek Hi Afsos
Dil Se Nikal Kar Tu Ja Bethi Bazar Mein
Meri Dastan Ko Kia Nai Qubool
Meri Wafa Sari Us Ke Liye Fazool
Bachi Koi As Nahi To Ab Itna Bata
Main Ne Chaha Tujhe Kia Ye Meri Bhool
Mere Dimag Mein Wo Chal Rahe Hain Sawal Tere
Mere Zehen Me Kyun Ate He Khayal Tere
Mayar Tere Pe Me Utra Nai
Tere Lakh Samajhane Par Bhi Main Sudhra Nai
Meri Ghalti To Meri Wajah
Teri Ghalti To Main Kyun Wajah
Manzil To Pata He Par Rasta Nai Jane Ka
Rasta Dhund Bhi Loon Wasta Nai Hai Jane Ka
Ab Kisi Se Mera Hisab Nai Hai
Meri Ankho Me Dekh Yaha Koi Khuwab Nai Hai
Khoon Ke Ghunt Pi Raha Hoon Main Rat Din
Ye Mera Khoon He Ye Sharab Nai Hai
Main Sharabi Hoon Meri As Na Cheen Please
Tu Meri As He Sharab Nai Hai
Noch Phenke Labon Pe Mene Sawal
Taqat Shoqia Hain Jawab Nai Hai
Ab To Punjab Bhi Punjab Nai Hai
Aur Khud Jesa Ab Do Ab Nai Hai
Zakham Abad Hain Ane Jane Ke
Aur Aisa Koi Bhi Hisab Nai Hai

Taimour Baig's rendition of "12:00 AM" is emotionally charged and melodious. His vocals breathe life into the lyrics, effectively conveying the yearning and affection depicted in the song. The composer, Dizzla D. Beats, provides a musical backdrop that complements the lyrical content, enhancing the song's overall impact.
12:00 AM MUSIC VIDEO
While there isn't an official music video associated with the song, the lyrical music video, shared on YouTube, offers a simple yet poignant visual representation of the song's themes. It reinforces the lyrics' emotions, making the song a complete sensory experience.
12:00 AM SONG DETAILS
Track Name
12:00 Am
Singer(s)
Taimour Baig
Lyrics Writer(s)
TAIMOUR BAIG
Composer(s)
Dizzla D Beats