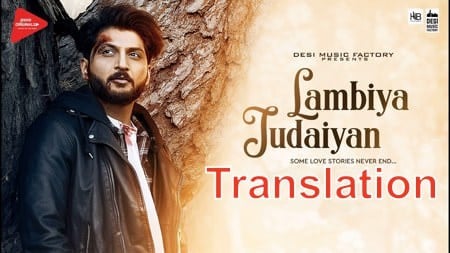 LAMBIYA JUDAIYAN LYRICS with ENGLISH TRANSLATION – The most loved recent song of Bilal Saeed has been receiving enormous response from the listeners. Here is the meaning of song verses.
LAMBIYA JUDAIYAN SONG LYRICS TRANSLATION
Shod de, shod ne, shod de aaj haath,
Rok le, rok le ankhon mein jazbaat,
Leave it, leave it, leave my hand today,
Control it, control it, control the emotions in your eyes.
Hai shuru aaj se ye judaayi ki raat,
Ja rahaa hoon liye main teri yaad saath,
The night of separation starts from tonight, I am going away having your memories.
Teri aaghosh se door, teri khushbu'on se door
Mujhe ho jaane de, aaj khud se tu door.
Away from your warm embrace, far away from your scents, Let me be away from you today.
Dhoond lunga koyi toh mai aisee jagaah,
Na jahaan ho teri yaad se raabta,
I would find such place, From where there is no communication to your memories.
Raaston se jude na koi raasta,
Faaslon se bhi mit na sakey fasla,
Where no roads lead, And these existing distances are not able to be over-come this desire of being together.
In raabton se door, tere raaston se door,
Mujhe ho jaane de, aaj khud se door.
Away from these communications, far away from ways to you, Please let be go away from you today.
Lambiyan judaiyan hisse saday aayian
Rabba ve mohabbtan kyoon tu banaiya.
These long-term separations are in our fate, Oh god, what have you created love for?
In raston se door, tere raabton se door,
Mujhe ho jane de, aaj khud se tu door.
Far from the paths, far from any conversations with you, Do let me be away from you today.