Lambiyaan Si Judaiyaan Lyrics from Raabta film is a Sufi love song in perfectly melodious voice of Arijit Singh. The sweet couple of  Sushant Rajput and Kriti Sanon acts in the music video.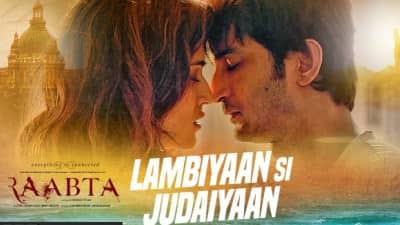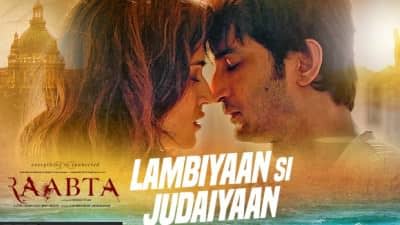 Song Title: Lambiyaan Si Judaiyaan
Singers: Arijit Singh
Movie Name: Raabta
Music Composer: JAM8
Lyricist: Amitabh Bhattacharya
Amitabh Bhattacharya have wonderfully jot down the lyrics of "LAMBIYAN SI JUDAIYAN" Hindi tune and here you can read its English translation and Hindi meaning. JAM8 is name of the team who produced music for this lovely romantic anthem.
ARIJIT SINGH's LAMBIYAN SI JUDAIYAN SONG LYRICS | TRANSLATION
Sajda tera kar na sakun
Toh bandagi kya bandagi
Tere bina jeena pade
Toh zindagi kya zindagi.
If I can't pray to you
Then the kotow is not worth doing
If I would have to live without you
The life won't be life anymore.
Kya rang laya
Dil ka lagana
Kya rang laya
Dil ka lagana
Goonje hawa mein
Bichre dilan diyan duhaiyan,
Ve badi lambiyaan si judaiyaan
Tere nishaan yaadon mein hain
Tu kyun nahi takdeer mein
Nadaan dil hai dhoondta
Kurbat teri tasveer mein.
See where falling in love have brought us
The clamors of separated hearts are echoing in air
Oh these separations were so long
I still have your trails in my memories
Why aren't you in my life
This silly heart is looking for vicinity in your pictures.
Munkin nahi hai
Tujhko bhulana
Munkin nahi hai
Tujhko bhulana
Dekhe khudaya do aashiqan diyan tabahiyan,
Ve badi lambiyan si judaiyan
Badi lambiyan si judaiyan
judaiyan judaiyan
Vey badi lambiyan si judaaiyan,
Lamiyan si judaiyan -x3.
It's not possible to forget you
The God is watching devastation of two lovers
Oh these distances occurred were so long.