Lori Lyrics from the Punjabi movie 'Main Te Bapu' featuring Sanjeeda Shaikh, Parmish Verma is a exquisite song, and it has amazing lyrics by Bir Singh. The sublime lyrics of the Lori chant are penned down by Bir Singh. Gurmohh is the inventor of LORI's jolly music. The very pretty music video of the ditty is commanded by Uday Pratap Singh.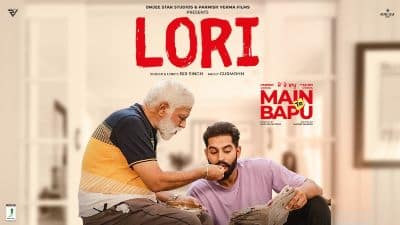 MAIN TE BAPU PUNJABI MOVIE · LORI FULL SONG LYRICS
Am Jahe Ess Jagg Chon,
Ik Khas Mere Layi,
Jeen Jogeya Jeevan Di,
As Mere Layi,
Maithon Kujh Nahi Lukeya,
Tu Mera Likheya Kissa Ae,
Han Tere Rom Rom Ton Wahqif,
Tu Meri Rooh Da Hissa Ae,
Teri Khusi Ch Khusi Ch Meri,
Jo Dil Kardae Karla,
Bas Mere Tu Door Na Javi,
Ajj Phir Ungli Fad La,
Rab Nalo Vi Pyara Lag De,
Jis Da Ditta Ae,
Tere Rom Rom Ton Waqif,
Tu Meri Rooh Da Hissa A,
Meriyan Marziyan Tere Ike,
Zid De Agge Jhuk Javan,
Putra Kida Ho Sakda Ae,
Teriyan Fikra Muk Javan,
Meri Ankh Nu Lagda Rehnda,
Lissa Lissa Ae,
Han Tere Rom Rom Ton Wakif,
Tu Meri Rooh Da Hissa Ae,
Main Te Bapu Film's Lori Music Video | Sanjeeda Shaikh | Parmish Verma
Let's play sweet music video for Lori from a very pretty movie Main Te Bapu.
Let's stream Lori Song Lyrics that Bir Singh aesthetically hummed and are featured in the Main Te Bapu film of Parmish Verma, Sanjeeda Shaikh . Bir Singh has scripted the Lori Punjabi lyrics and Uday Pratap Singh handledthe music video.