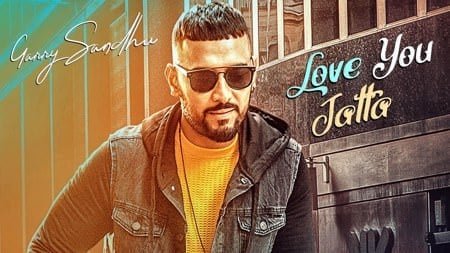 Love You Jatta Lyrics – The much awaited Punjabi song from "Garry Sandhu" is out now. He sings it from a girl's side and he also has composed, jotted down the track lyrics. Rahul Sathu is director of music and Sukh Sanghera is director of music video of "Love U Jatta" of Garry released from T-series Apna Punjab.
LOVE YOU JATTA SONG LYRICS
Oh jawa gym care kara goray lakk di,
Jatti tere te try'an jatta rakhdi,
Ke seena tera thar ho jawe,
Ho jiddan tere nal challda ae mera,
Tainu vi aidan yaar ho jawe,
Tainu vi jatta pyar ho jawe… -x4.
(I love you jatta)
Ho chotay-chotay jatti de dream soneya
Laide tu safora ton cream soneya,
Naale mainu laide mascara kale rang da,
Paake laggu bikaneri 'feem soneya,
Oh fer mere wall takk mere makhna,
Mere wall takk mere makhna,
Ishq bukhar ho jawe…
Ho jidda tere naal challda ae meraa
Tenu vi aiddan yaar ho jaave.
Tenu vi jatta pyar ho jaave -x4,
(I luv u jatta).
Haan, love you aa tere naa' train bharke,
Pyar naal mann nai taan karu khad ke,
Banda ban mere nal viyah karwa lai,
Rudke nu laija meri bahn fadke.
Ho bhoot mere sir chad-chad bolda,
Tere te sawaar ho jaawe..
Hun jida tere nal chalda ae mera,
Tainu vi odaan yaar ho jave,
Tainu vi jatta pyar ho jave -x4,
Rahul on the beat!