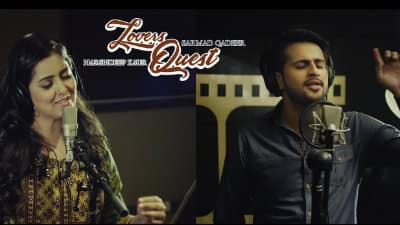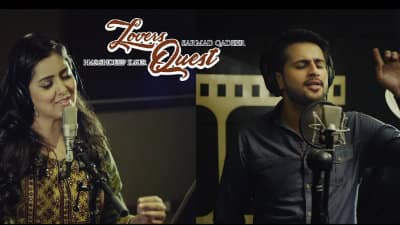 Lovers Quest Lyrics (Romantic Medley vol. 5  song) is a bliss of most beautiful romantic songs. The voices behind the loving tune are Harshdeep Kaur and Sarmad Qadeer, he re-produced music as well. The lyrics of song are gathered from some popular / evergreen tracks.
ROMANTIC MEDLEY 5 AKA LOVERS QUEST LYRICS – SARMAD QADEER WITH HARSHDEEP KAUR
Jurm-e tauheen-e mohabbat ki
Saza de mujhko
Kuch toh mehroom
Ulfat ka sila de mujhko,
Jism se rooh ka
Rishta nahi toota hai abhi
Haath se sabr ka
Daaman nahi chhoota hai abhi.
Abhi jalte huwe
Khwaabon ka dhuan baaki hai,
Ik sitam aur meri jaan
Abhi jaan baaki hai
Dil mein ab tak teri
Ulfat ka nishaan baaki hai -x2.
Dabe paaon
Humein aakar
Kisi ka gudguda dena
Woh apna rooth jaana
Aur woh unka mana lena,
Wo manzar jhaakte hain aaj bhi
Yaadon ki chilman se
Bula sakta hai kaise
Koi woh andaaz bachpan ke.
Gum-e dil ko in aankhon se
Chhalak jana bhi aata hai
Tadpan bhi hume aata hai
Tadpana bhi aata hai.
Meri jindri tu
Meri jaan vi tu
Is kamli da ae maan vi tu
Mera yaar vi tu
Mera pyaar vi tu
Dilbar vi tu, dildar vi tu
Bhul jawenga pardesan nu
Aawenga des ik var je tu.
Mar jawanagi je akh metho pheri -x2,
Dua na koi hor mangdi,
Nit khair mange soniye tu meri -x2,
Dua na koi hor mangdi -x2.
Dum mast kalandar
Kalandar mast kalandar -x3,
Mast mast dum.
Akhiyan udeek diyan
Dil 'waajan maarda haye…
Akhiyan udeek diyan
Dil 'waakan marda
Aja pardesiya wasta ae pyar da,
Aaja tainu akhiyan udeek diyan
Sajjna tainu akhiyan udeek diyan
Haniya tainu akhiyan udeek diyan
Sohneya tainu akhiyan udeek diyan.