Mitti De Tibbe Lyrics AKA 'Pata Laga Tenu Shok Phulan Da' by Kaka: It is the most recent and an amazing Punjabi song. Kaka is the musician of MITTI DE TIBBE's amiable music. The staggering Mitti De Tibbe Punjabi lyrics of the jingle are given by Kaka. Scope Studios steer the sunny music video of the lovely show tune.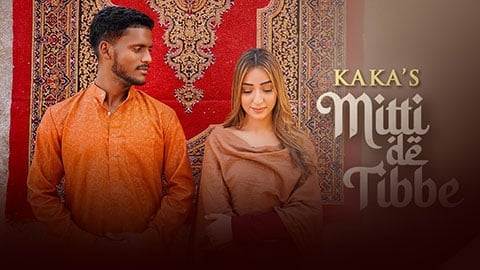 Enjoy the fantasy lyrics of Kaka's most recently released Punjabi song Mitti De Tibbe. The songsmith Kaka brings applaudable lyrics.
KAKA · MITTI DE TIBBE FULL SONG LYRICS | PATA LAGA TENU SHOK PHULAN DA
Mitti De Tibbe De Sajje Pase,
Tobhe De Nalo Nal Ni,
Vich Charande De Bheda Jo Chare
Babe Ton Pushi Mera Hal Ni,
Sadak Valli'n Tere Kamre Di Khidki Di
Takhti Te Likheya Ae Na Mera
Ghodi Vechi Jithe Chache Tere Ne
Ohi Ae Jane Gra'n Mera,
Tu Mere Raste Nu Takdi Hi Reh Gayi
Ubbalke Chah Teri Chuleh Ch Pai Gayi,
Mera Pata Teri Saheli Nu Pata Ae
Tun Tan Kamlie Ni Jakdi Hi Reh Gayi
Karkhane Vale Mod De Kole
Tanga Udeekein Tu Bohd De Kole
Aaja Kade Meri Ghodi Te Behja
Pyar Nal Gal Pyar Di Kehja
Neend Te Chain Ta Pehla Hi Tu Lai Gayi
Jaan Hi Rehndi Ae Ah Vi Tu Laija,
Akhan Vichon Kina Boldi Aein
Chehre Mere Cho Ki Tohl Di Aein,
Mere Vicho Tenu Esa Ki Dikheya'ke
Baki Ene Dil Roldi Aein
Baalan Le'auni Ae Jungle Cho Athan Nu
Nal Pakki Ik Rakhdi Aein Sathan Nu,
Kikkar Di Tahni Nu Maan Jeha Hunda Ae
Moti Danda Nal Chhu'ni Aein Daatan Nu
Lak Tere Utte Jachde Bade
Nehron Do Bhardi Pittal De Ghade,
Shehron Pata Karke Sehre Di Keemat
Tere Piche Kine Firde Chhade,
Tu Tan Chaubare Cho Parda Hatake
Chori Chori Mainu Dekhdi Aein,
Yar Mittar Ik Mere Da Kehna Ae
Naina Nal Dil Chhekdi Aein
Agle Maheene Mandir Te Mela Ae
Mele De Din Tera Yar Vi Vehla Ae,
Gani Nishani Tenu Laike Deni Ae
Alle Palle Mere Char Ku Dhela Ae,
Der Kyon Launi Ae Jugat Lada Lai
Mainu Sabar Ni Tu Kahli Macha Lai,
Bhua Ja Masi Ja Chachi Nu Kehke
Ghar Tere Meri Tu Gal Chala Lai
Lipke Ghar Sada Nanad Teri Ne
Kandh Utte Tera Chehra Banata,
Chehre De Nal Koi Kala Jeha Vaahke
Ohde Mathe Utte Sehra Sajata
Pata Lagga Tenu Shonk Phulan Da
Phulan Da Raja Gulab Hi Ae,
Char Beeghe Vich Khushbu Ugauni
Hale Kake Da Khwab Hi Ae,
Daulan Te Ghumdi De Saha Ch Ghulke
Khushboan Khush Hon Giyan,
Udd Da Dupatta Dekhke Tera
Koylan Vi Gane Gaun Giyan.

Mitti De Tibbe Punjabi Music Video | Kaka
Let's stream up-to-the-minute music video for Mitti De Tibbe with mesmerizing lyrics cutely voiced by Kaka.
Mitti De Tibbe Song Details
Song
Mitti De Tibbe
Performing Artist
Kaka
Lyricist
Kaka
Instrumentalist
Kaka
Mitti De Tibbe Song — Frequently Asked Questions (FAQ)
Who performed the song "Mitti De Tibbe"?

The song "Mitti De Tibbe" is sung by Kaka.

Who is the writer of the lyrics to the song "Mitti De Tibbe"?

The songwriting credit for the lyrics to "Mitti De Tibbe" goes to Kaka.

Who is the music composer of "Mitti De Tibbe" song?

Kaka has composed the music for "Mitti De Tibbe" song.