Neetho Unte Chalu Lyrics with meaning from the Telugu movie 'Bimbisara' featuring Nandamuri Kalyan Ram is a splendiferous song, and it has a peachy vowel by Sandilya Pisapati, Mohana Bhogaraju. The jolly lyrics of the Neetho Unte Chalu melody are given by M. M. Keeravani. M. M. Keeravani is the inventor of NEETHO UNTE CHALU's nifty music. The excellent music video of the poesy is focused by Vassishta.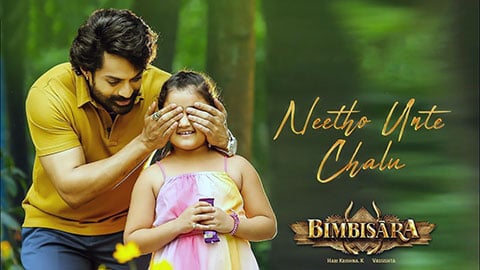 Let's play Neetho Unte Chalu Song Lyrics that Sandilya Pisapati, Mohana Bhogaraju prettily hummed and are featured in the Bimbisara film of Nandamuri Kalyan Ram . M. M. Keeravani has penned down the Neetho Unte Chalu Telugu lyrics with meaning and Vassishta guided the music video.
BIMBISARA TELUGU MOVIE · NEETHO UNTE CHALU SONG LYRICS ENGLISH MEANING
Gunde Dati Gonthu Dati Palikindedo Vainam
A story came out from the heart and the throat
Moduvarina Manasulone Molichindedo Pranam
A story came out from the heart and the throat
A Kannullone Gangai Pongina Anadam
Happy tears rolled from my eyes
Kalamtho Parihasam Chesina Sneham
Friendship making fun with the times
Poddulu Dati Haddulu Dati Jagamulu Dati Yugamulu Dati
Crossing the days, borders and the worlds
Cheyandinchamandi Oka Pasam Runapasam Vidhi Vilasam
A relation asked to give hand. A bonding to repay, this is destiny.
Adagale Kani Edaina Ichhe Annayanoutha
I'll be the brother to give anything if asked
Pilavale Kani Paliketi Thodooneedayipotha
I'll be a shadow as companion if called for
Neetho Unte Chalu Sarithoogavu Samrajyalu
No kingdoms can match your company
Rathri Pagalu Lede Digulu
No worry in day and night
Tadise Kanulu Idivarakerugani Premalo Garamlo
Eyes got wet in love never known before
Cheyandinchamandi Oka Pasam
A relation asked to give hand
Runapasam Vidhi Vilasam
A bonding to repay, this is the destiny
Pranalu Isthanandi Oka Bandham Runabandham
A relation said to give life for you
Norara Velige Navulni Nenu Kallara Chusa
I've seen the glowing smiles with my eyes
Reppallo Odige Kantipapallo Nannu Nenu Kalisa
I've met myself hidden in the eyelids
Neetho Unte Chalu Prathi Nimasham O Harivillu
Every minute with you feels like a rainbow
Rathri Pagalu Lede Gubulu
No worry in the day and night
Murise Edalu Idivarakerugani Premalo Garamlo
Heart felt happy in love never experienced before
Pranalu Isthanandi Oka Pasam
A bonding is ready to sacrifice life
Runapasam Vidhivilasam
This is the relation, the destiny
Cheyandinchamandi Oka Bandham Runabandham
A bonding asked to give a hand
Atallone Patallone Velisindedo Swargam
A heaven is seen in dancing and singing
Raje Nedu Bantaipoyina Rajyam Neeke Sontham
Kingdom where King turned slave is yours

Neetho Unte Chalu Full Song | Bimbisara
Bimbisara Film's Neetho Unte Chalu Music Video | Nandamuri Kalyan Ram
Take a look at the funky music video for Neetho Unte Chalu from an excellent movie Bimbisara.
Neetho Unte Chalu Song Details
Name of Song
Neetho Unte Chalu
Movie
Bimbisara
Performing Artist
Mohana Bhogaraju, Sandilya Pisapati
Lyric Poet
M. M. Keeravani
Music Maker
M. M. Keeravani
Performer
Nandamuri Kalyan Ram