Ponni Nadhi Lyrics AKA 'Theeyari Esamari' with meaning from the Tamil movie 'Ponniyin Selvan' featuring Karthi, Vikram is a fine song, and it has an admirable vocal by A. R. Rahman, Bamba Bakya, A. R. Reihana. The incredible lyrics of the Ponni Nadhi song are inked down by Ilango Krishnan. A. R. Rahman is the composer of PONNI NADHI PAKANUME's seemly music. Mani Ratnam addresses the sweet-tempered music video of the anthem.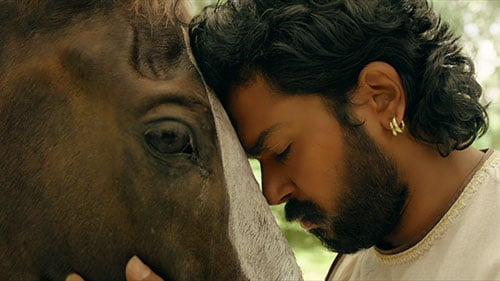 Make sure to check Ponni Nadhi Song Lyrics that A. R. Rahman, Bamba Bakya, A. R. Reihana extremely hummed and are featured in the Ponniyin Selvan film of Vikram, Karthi . Ilango Krishnan has logged the Ponni Nadhi Tamil lyrics with meaning and Mani Ratnam formal the music video.
PONNIYIN SELVAN TAMIL MOVIE · PONNI NADHI SONG LYRICS ENGLISH MEANING | THEEYARI ESAMARI
O Kaveriyal Neermadikku Ambaramai Anaiyeduthan
The Chola dam drapes the sacred River Ponni.
Neer Satham Ketadhume Nel Poothu Nikkum
Crops blossom to the sound of the flowing river
Uli Satham Ketadhume Kal Poothu Nikkum
Stones sharpen to the soul of the chisel.
Pagai Satham Ketadhume Vil Poothu Nikkum
Bows stretch to the soul of the enemy.
Chozhathin Perumaikoora Sol Poothu Nikkum
All words flower to sing poems of the Chola land.
Ponni Nadhi Pakanume Theeyari Esamari, Pozhudhukkulla Theeyari Esamari
I must see the river 'Ponni' before the sun goes dull.
Kanni Pengal Kananume Theeyari Esamari, Katraippola Theeyari Esamari
I must admire the lovely beauties, as silent as the breeze.
Pottal Kadandhu Theeyari Esamari, Puzhudhi Kadandhu Theeyari Esamari
Crossing barren lands, crossing dusty lands,
Tharisu Kadandhu Theeyari Esamari, Karisal Kadandhu Veeram Velanja Mannu
Crossing parched lands.
Andho Nan Ivvazhaginile Semba Semba, Kalam Marandhadhenna
Beauty makes me lose the track of the time.
Manne Un Marbil Kidakka Pachai Naranja Mannu
O land, as I lie upon your chest, lush green fields.
Achho Oor Aasai Mulaika Manju Thoorum Mannu
Desires stir in me.
En Kalam Kaniyadho Kokku Pootha Mannu
Will time turn in my favor?
En Kalgal Thaniyadho Vella Manasu Mannu
Will my legs never tire?
Sembane Veeram Velanja Mannu, Thathatthada Thathatthada Thathatthada Thadavane Sel Veeram Velanja Mannu
O Semba! I hear your galloping
Ponni Magal Theeyari Esamari
This lady 'Ponni'…
Lali Lalla Lali Lalla Lali Lalla Padi Sellum
Singing softly as she flows
Veera Chozhapuri Parthu Viraivai Nee
Gallop away to the valiant Chola land
Thavu Azhaga Thavum Nadhiyai Saga Kanavai Mudida
Jump with joy! Swift like the flowing river My friend, go! Fulfil our dreams
Ponni Nadhi Pakanume Theeyari Esamari, Pozhudhukkulla Veeram Velanja Mannu
I must see the River Ponni before the sun goes down
Kanni Pengal Kananume Theeyari Esamari, Katrai Pola Veeram Velanja Mannu
I must admire all the beauties, silent as the breeze
Sekka Sagappi Theeyari Esamari
O fair-skinned beauty
Nenjil Irudi Veeram Velanja Mannu
Dwell in my heart
Retta Suzhachi Theeyari Esamari
O mischievous lady
Otti Irudi Veeram Velanja Mannu
Stay close to me
Andho Nan Ivvazhaginile
So much beauty to behold!

Ponni Nadhi Full Song | Ponniyin Selvan
Ponniyin Selvan Film's Ponni Nadhi Music Video | Karthi | Vikram
Let's play just out music video for Ponni Nadhi from the sweet-tempered movie Ponniyin Selvan.