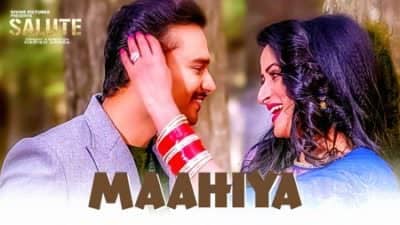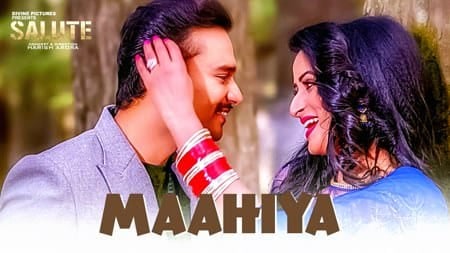 Artists: Nav Bajwa, Jaspinder Cheema, Sumitra Pednekar, Deep Mandeep
Song: Maahiya
Singer: Mannat Noor, Sanj V
Music: Jaidev Kumar
Lyrics: Sonu Saggu
Director: Harish Arora
Producer: Harish Arora
Music Label: T-Series
Maahiya Lyrics (Mahiya Soneya) from the fresh Punjabi film "Salute" is a duet romantic song featuring Nav Bajwa and Jaspinder Cheema from the film. Mannat Noor and Sanj V are the vocal performers and Sonu Saggu is songwriter. Jaidev Kumar have Maahiya tune composed music.
MAAHIYA FULL SONG LYRICS MANNAT | NAV BAJWA
Payal meri chhan-chhan shor machaye ve
Sari-sari raat neend na aaye ve,
Vekh-vekh tenu chan mahiye
Tere naal main nachdi phiran,
Dil de frame ch photo teri
Main khich ke rakh laan,
Mahiya sohneya mahiya..
Ungli ch paade mere diamond ring ve
Main haan teri channa
Tu ae mera king ve,
Tere nak wich chamke koka
Tu lagdi chann da tota,
Tere shonk main pooray kardu
Tu de-de bas ik mauka.
Baith ke tere naal gaddi wich town pura ghum la,
Dil de frame 'ch photo teri mai khich ke rakh laa,
Maahiya soneya maahiya..
Soniye hiriye soniye…
Behja mere kol gallan kar laiye goorhiyan
Goray-goray hathan naa' khilawaan tainu chooriyan
Tere gal wich haar main pawaan
Tere nakhre roz uthawaan
Tere ishq ch kamla hokay
Duniya sari bhull jawaan,
Ji karda ajj palkaan de naa' mukhda tera chum laa,
Dil de frame 'ch photo teri mai khich ke rakh laa,
Maahiya sohneya maahiya..
Sohniye heeriye sohniye…
Find out more Punjabi Songs like 'Maahiya' from Duet, Mannat Noor, Romantic.