Maaran from the Malayalam movie 'Kudukku 2025' featuring Krishna Shankar, Swasika is a drop-dead gorgeous song, and it has a stupefying performance by Sid Sriram, Bhoomee. The five-star lyrics of the melody are given by Titto P Thankachen. Bhoomee is the adjuster of MAARAN's supreme music. The sweet-tempered music video of the poetry is managed by Bilahari K Raj.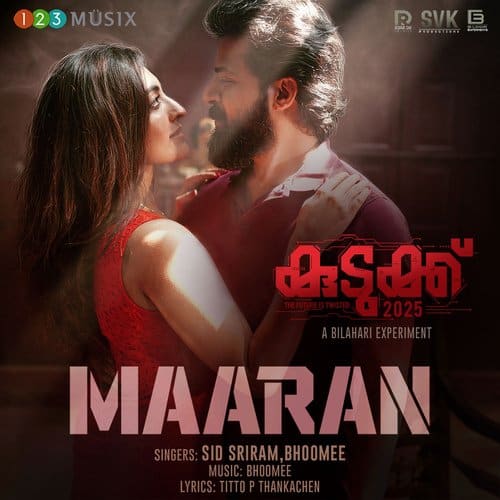 KUDUKKU 2025 MALAYALAM MOVIE • MAARAN FULL SONG LYRICS
Maran Marukil Chorum,
Madhuram Neeye Neeye Neeye,
Maril Kuliray Moodum,
Uyirin Theeye Theeye Theeye,
Oh! Oh!
Alakalil Avalude Manamezhutham,
Oh! Oh!
Thodikalil Avalude Akamariyam,
Kattil Aval Shwasam, Veeshum Kina Jalam,
Dhoore Thurannalo Oh
Vanil Aval Chayum, Megham Veyil Kattum,
Neram Varum Yamam
Ivan Ente Nenjil Kurukunna Pole,
Iniyarum Ennullil Ille
Parayathe Ennil Mazha Peytha Pole,
Nanayunna Poomullayaye,
Thunayulla Nokkil Vazhuthunna Vakkil,
Ariyathe Veezhunna Pole Eh
Pidayunnorullil Thalirunnu Melle,
Pathivayi Pinnale Pove
Oh! Oh!
Avalude Mizhiyile Mozhiyariyam,
Oh! Oh!
Kanavilum Avalude Vazhi Thirayam,
Kattil Aval Shwasam Veeshum Varam Thedi,
Dhoore Nila Tharam, Vanil Aval Chayum,
Theeram Niram Choodum,
Neram Thodum Yamam.

Kudukku 2025 Film's Maaran Music Video | Ft. Krishna Shankar, Swasika
Let's play just out music video for Maaran from a sweet tempered movie Kudukku 2025.
Let's check out Maaran Song Lyrics that Sid Sriram, Bhoomee symmetrically crooned and are featured in the Kudukku 2025 film of Krishna Shankar, Swasika . The lyrics writer drafted the Maaran Malayalam lyrics and Bilahari K Raj orderedthe music video.