"Mahiyil Maha (Jaana Mere Jaana)", with its hypnotic lyrics, is a mesmerizing Malayalam romantic song that effortlessly captures the essence of love and infatuation. The enchanting lyrics, written by P T Abdul Rahman and Abhishek Talented, beautifully express the emotions of a heart smitten with love.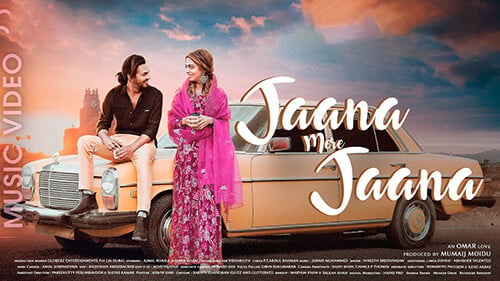 Vineeth Sreenivasan's soulful rendition of the song adds a magical touch, transporting listeners to a world of heartfelt emotions and affection. His melodious voice, filled with passion, perfectly complements the romantic theme of the song. Jubair Muhammed's brilliant composition weaves a symphony of emotions, creating a musical masterpiece that tugs at the heartstrings. The music effortlessly blends with the lyrics, enhancing the overall experience of the song.
VINEETH SREENIVASAN · MAHIYIL MAHA (JAANA MERE JAANA) SONG LYRICS
Mahiyil Maha Seenennu Mahimayezhum Sulthanu
Malar Mazhavillayundu Oru Kani Molu
Avalude Madhuvozhukum Peranu Husnul Jamal
Jana Meri Jana Ho Gaya Deewana
Oh sweetheart, my heart has become your lover.
Jabse Tujno Dekha Main Ban Gaya Deewana
Ever since I saw you, I have become your lover.
Mujko Jo Hua Hai Kya Tujko Pata Hai
Do you realize what has happened to me?
Tujse Dil Lagake Dil Tujse He Milana
I am to fall in love with you, and unite our hearts.
Mani Vayiram Manikyam Marathakavum Nanikkum
Mathiyazhakal Meevunna Mathimukiyane
Avalude Madhurithamam Perallo Husnul Jamal
Husnul Jamal Poovinnu Kasavoliyum Penninnu
Kisa Parayan Koottinnu Ndoru Oru Theli Nooru
Kadhayithil Isumurayam A Thozhan Badarul Muneer
Mahiyil Maha Seenennu Mahimayezhum Sultanu
Malar Mazhavillayundu Oru Kani Molu
Avalude Madhuvozhukum Peranu Husnul Jamal
Jana Meri Jana Ho Gaya Deewana
Jabse Tujno Dekha Main Ban Gaya Deewana
Mujko Jo Hua Hai Kya Tujko Pata Hai
Tujse Dil Lagake Dil Tujse He Milana
Jana Meri Jana Ho Gaya Deewana
Jabse Tujno Dekha Main Ban Gaya Deewana