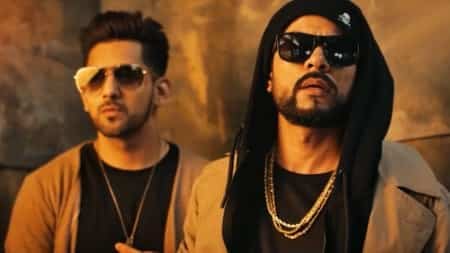 Main Tera Akshay Lyrics from the first time ever collaborating duo of Babbal Rai and Bohemia, is a quite a likeable Punjabi number and has been musically produced by B Praak. Jaani is writer of the fancy lyrics to Punjabi song "MAIN TERA AKSHAY" with music film created by Baljit Singh Deo and released from Humble Music.
Song Credits / information:
Song Title:

Mai Terra Akshay (feat. Bohemia) – Single

(Punjabi)

Artist(s):
Bohemia, Babbal Rai
Lyrics Writer(s):
Jaani
Video Director:
Baljit Singh Deo
Music Director:
B Praak
Label:
Humble Music
​
BOHEMIA's MAIN TERA AKSHAY SONG LYRICS
Yeah! Check one, two!

Humble music! Babbal rai! Bohemia! Go!
Ni akhiyan te surma laake
Te chote-chote kapre paake,
Tu munde pattdi firdi
Ni lak da bhaar ghataa ke,

Ho kill karta tu adha ludhiana ni
Kal delhi wich chakta niyana ni,
Ni chupeya til vikha ke
Tu ghut-ghut jaffiyan paake,
Tu munde pattdi firdi
Ni lakk da bhar ghataake,
Ni akhiya da…
Kalli-kalli mainu teri gal pata goriye ni
Kithe kide naal jaake khad di,

Kade vi flop oh ho ni sakde
Ni jehde-jede tu club wich varhdi,
Ni despacito laake,
Do fukre naal nachaake
Tu munde pattdi firdi
Ni lakk da bhar ghataake.
Ni shupeya til vikhaake
Tu ghut-ghut jaffiyn paa ke,
Tu munde pattdi firdi
Ni lakk da bhar ghataake,
Ni akhiya da…

[Bohemia's rap]
Aaja sohni hor meri oar,
Aja tenu takkan jiwe mera long gawacha,
Ni soniye bai tuvi rakhi niga
Sohna-sohna har naksh tera tikha,
Utton phul-phul jede bul tere gillay
Tere agge fikke baag wich phul saare khilay
Ik-ik kudi sarhey
Impress mundey khadey,
Teri photo khichan dost
Tainu text karan munday,
Sohni tu lagan lagi patli patang
Utton sawla rang ni tetho pind sara tang,
Aja dikhawa tainu chandni chownk
Main tera Akshay tu meri Deepika ban.

Oye, siron laike pairan tak kill kardi,
Mitran naa' kahton ni tu chill kardi,

Shehar di mandeer meri sari goriye
Firdi ae saali tere bill bhardi,

Ki maa ne jammi kha ke
Tu rakhtey floor hilaake
Ni gaane jaani waale
#Ni D.J. ton lawaake.

Ni shupeya til vikha ke
Tu ghutt-ghutt jaffiyan paake,
Tu mundey pattdi phirdi
Ni lak da bhaar ghataa ke, let's go!