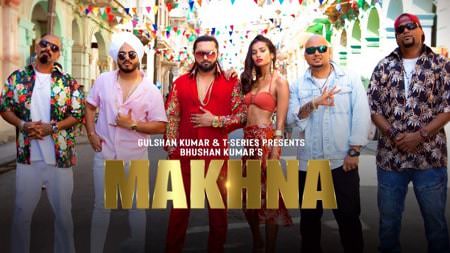 Makhna Lyrics – The most promising release of the month "Makhna" by Yo Yo Honey Singh with artists Neha Kakkar, Singhsta, Pinaki, Sean & Allistair (TDO) has released today. The new entertaining Punjabi-Hindi song lyrics have been all penned by trio of Yo Yo Honey Singh, Singhsta, Hommie Dilliwala with music production done by Yo Yo Honey Singh solely.
HONEY SINGH's MAKHNA FULL SONG LYRICS
Intro,
Tujhay diamond jaise sambhal ke rakhna,
Tere pyar ka appetizer chakhna (x2),
Aur kisi pe gaur na kar,
Mere paas aake bol mujhay makhna.
Makhna, øh mere makhna -x2,
Makĥna makhna makĥnaa oye,
Makhna makhna makhnaa -x2.
That girl is trouble,
The way she move like that,
The way she wanna bring it right back,
Trouble, yes she bad like that,
I'm calling another fix for you, aye -x2.
Yo yo honey Singh! Makhna!
Main aur mere kalakar
Sab baith ke kare chill,
Par main hoon womenizer,
Mujhay akele mein mat mil.
Silicon wali ladki ko main pakadta nahi,
Brown-girl se mera dil bharta nahi,
Gori-gori skin ke liye main marta nahi,
Kyun ke main hu sher, ghaas charta nahi.
Tu hai patli si naari,
Par mera weight ho gaya hai thoda bhaari,
Tu hai jaanti main hu shikari,
Tujhey kha jaunga sari ki sari,
Kyun ghabraati, baat chupaati,
Paas bulaake door kyun jaati,
Din mein tu mil ja, mil mainu raati,
Darr mat main nahi Illuminati.
Makhna, oh mere makhna,
Makhná makhna makhna aye,
Mákhna makhna makhna -x2.
Teri life mein dena chahta hu main dakhal,
Meri ex se milti hai teri shakal,
Mere lambe sabar ka tu hai phal,
Oh yeah! Yeah! Let me grab you girl.
Patli kamar teri omg,
Tight jeans hain d&g,
Tere peechay lage aashiq saarey, cheap like cng, ha!
Maķhna, o mere makhna.
Trouble, yes she bad like that,
I'm calling another fix for you, aye.
Outro!
Song Credits / information:
Song Title
Makhna (2018)
Artist(s)
Yo Yo Honey Singh, Neha Kakkar, Singhsta, Pinaki, Sean, Allistair
Lyrics Writer(s)
Yo Yo Honey Singh, Singhsta, Hommie Dilliwala
Video Director
Daniel Duran
Music Director
Yo Yo Honey Singh
Label
T-series
​