Lyrics for Sivakarthikeyan's 'Malto Kithapuleh Song' from his latest Tamil film 'Hero', track is composed by Yuvan Shankar Raja & voiced by Shyam Viswanathan. Check its full lyrics.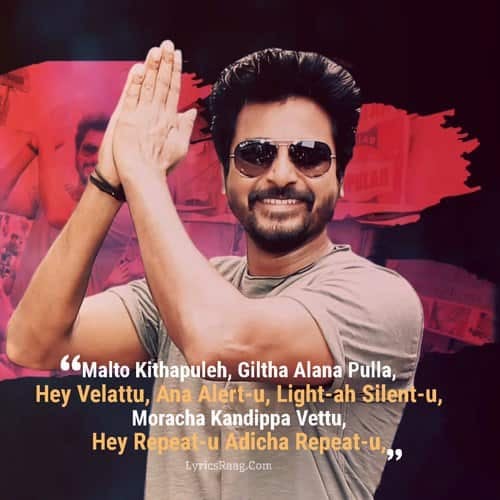 HERO TAMIL MOVIE's MALTO KITHAPULEH SONG LYRICS
Malto Kithapuleh, Giltha Alana Pulla,
Hey Velattu, Ana Alert-u,
Light-ah Silent-u,
Moracha Kandippa Vettu,
Hey Repeat-u Adicha Repeat-u,
Illa Veruppu, Va Romba Sirappu,
Nalla Galla Kattumda,
Dhinam Namma Pozhappu,
Ada Vena Adhuppu,
Adha Adchi Kozhappu,
Nee Scene-ah Podadha,
Varum Thana Theluppu,
Therikkanum Top-u, Kalakkanum Mapu,
Thalakanam Illa, Nee Safe-u,
Setting-u Sharp-u, Sikkuna Gap-u,
Thattum Veppom, Pala Appu,
[Instrumental Break]
Vetti Virapilla, Mutti Modhi,
Paru Da Dhilla, Hey Assault-u,
Kudutha Result-u, Era Achamilla,
Edhuthu Nippomda Vella,
Hey Talent-u, Irundha Support-u,
Angigaram Illama Dhan, Nalla Therama,
Oru Velailla Mulaiyila, Thoongum Nelama,
Peru Pinna Nal Ezhuthu, Sendha Peruma,
Andha Qualification Kammiyana,
Life Eh Koduma,
Nee Correct-aga Uzhaicha, Varum Valimai,
Vida Muyarchiya Pannu Da, Dhinam Podhuma,
Va Da Oorellam Pakkatum, Un Arumai,
Adaa Salikama Seiyivom, Pala Magimai,
Semester-um Illa, Professor-um Illa,
Narukkunu Iruppom, Scene-u Mela,
Gate-um Dhan Illa, Poottum Dhan Illa,
Thadaiyum Udaiyum, Thannala,
Jolly Jamayila, Vazhkai Kamaya Sella,
Hey Sikkama Poren Nikkama,
Veli Onnumilla, Geli Pannaka Tholla,
Hey Vidama Adipom Thodama.
[Instrumental Continue]
Enjoy the lyrical music video for 'Malto Kithapuleh' a just released Tamil song from Hero Tamil Movie of Sivakarthikeyan & Arjun Sarja. P. S. Mithran is director of this film. The songwriter Rokesh pens Tamil lyrics for above track and Yuvan Shankar Raja directs its music.