Mangna Lyrics by Mehtab Virk: The composer of this Punjabi song is Gupz Sehra and lyric are drafted by Matt Sheron Wala. Mehtab Virk has lent his voice for 'Mangna' tune.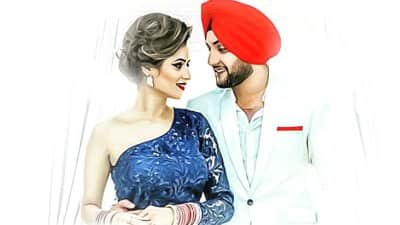 MEHTAB VIRK's NEW MANGNA SONG LYRICS
O mera rishta karaun nu ne
Gharde vi kaale
Gerhe lag paye ne laun
Ghare rishteyan waale -x2,
Appan aini sheti khedna ni kangana
Aini sheti khedna ni kangana
Je jatt ne kara leya mangna,
Ehna kudiyan de pain giyan dandlaan
Je jatt ne kara leya mangna -x3.
Sadi layi jo khol-khol
Behn boohe bariyan
Oye hauke le-le ron giyan
Allrhan kuwariyan -x2,
Roti paani vi ni bautiyan de langhna
Paani vi nu bautiyan de langna
Je jatt ne kara leya magnana.
Ena kudiya de pen giya dandla
Je jatt ne kara leya mangna,
Kudiyan de pain giyan dandlaan
Je jatt ne kara leya mangna,
Ehna kudiyan de pain giyan dandlaan
Je jatt ne kara leya mangna