"Mashooka" is a vibrant and lively Haryanvi song that exudes youthful energy and the spirit of love. Sung by Mc Square, this track is all about expressing love in a playful and entertaining way.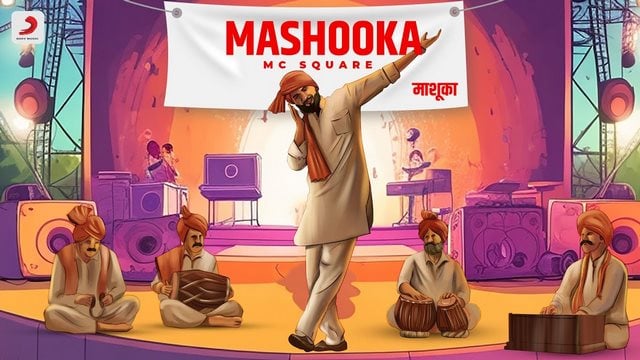 The lyrics of "Mashooka" are a delightful attempt to woo and impress a girl. They are filled with compliments and praise as the singer and the girl enjoy a moment on the rooftop while dyeing her hair. The lyrics are lighthearted and capture the essence of young love. Lines like "He professes to be a devotee of Lord Shiva" add a unique and humorous touch to the song.
Mc Square's vocals are a perfect fit for this upbeat and fun song. His ability to seamlessly blend folk vocals with rap elements adds a distinct flavor to the track. His delivery is energetic and adds to the overall charm of the song.
MASHOOKA SONG LYRICS
Kadka Dekhu Bat Hilave Hath Chubare Adi,
Neeche Ake Karle Ne Do Bat Chubare Adi,
Tu Bethi Chubare Pe Ger Khat Bal Sukhane,
Me Khada Gad Terike Me Mere Pav Dukhake,
Tu Kadi Takti Bhi Konya Tera Nam Pukare,
Isi Bijdi Si Padi Mera Kadja Kanpe,
Kadi Thar Mere Tade 1 Seat Khali Lado,
Pooche Bap Boldio Karu Geetkari Lado,
Main Nyu E Kona Pau Meri Fees Bhari Lado,
Mere Age Pache Kade Suit 30 40 Lado,
Par Tere Karke Re Sare Kam Shod Rakhe,
Dhara Lath Seat Tade Sare Beri God Rakhe,
Haryana Ke Shore Ne Record Tod Rakhe,
Bhola Bhagat Me Tere Sami Hath Jod Rakhe,
Teri Soch Me Pada Su Mere Din Rat Ek,
Bat Age Kaise Badhe Shori Bin Bat Ke,
Me Roj Nyu Hi Handu Teri Sheherke Me Shori,
Meri Angdi Te Bahar Din Gin Bat Ke,
Tere Ishq Me Isa Fasa Mere Chain Pade Din Rat Nahi,
Sapne Me Dikhe Ja S Sodhike Me Gat Nahi
Tu Jimein Savan Kadja Yo Dharti Mera,
Tere Tayi Shora Gujjar Ka Narmi Lera,
Ek Aud Bhole Babake Darshan Hove,
Meri Shat Te Dikhe Se Lado Ghar Bhi Tera,
Meri Sami Ake Sharam Tu Kariye Na,
Rahve Akh Lal Par Kadi Dariye Na,
Gel Ghumne Chalange Shar Dham Shori,
2 Bat Kadi Kar Par Kadi Ladiye Na,
Khair Kabhi Bat Kiya Kar,
Mujhe Ilzam De Fir Mujhe Maf Kiya Kar,
Kabhi Palke Jhuka Sham Ko Rat Kiya Kar,
Tahle Sapno Me Jab Mujhe Sath Kiya Kar,
Mashooka Ki Marji Chale Ashiq Ke Kuch Hath Nahi,
Me Te Pagal Hoya Firu Tu Karti Kade Bat Nahi.

MASHOOKA MUSIC VIDEO
While there may not be a music video or film associated with "Mashooka," the song itself paints a vivid picture of a light-hearted romantic encounter. It's a testament to the power of music to convey emotions and tell stories.
SONGS FOR YOU
Laado — MC Square
Le Le Rom Rom — MC Square
MASHOOKA SONG DETAILS
Track Name
Mashooka
Singer(s)
MC Square
Lyrics Writer(s)
MC SQUARE, Aazad Singh
Composer(s)
Hiten