Meeko Dhandam Song with enjoyable Telugu lyrics is the latest track from movie '30 Rojullo Preminchadam Ela.' Dhananjay & Mohana Bhogaraju are the vocalists while Pradeep Machiraju with Amritha Aiyer is featured in the music video. Anup Rubens is the composer of music to 'Meeko Dhandam Lyrics' and Chandra Bose is the lyricist.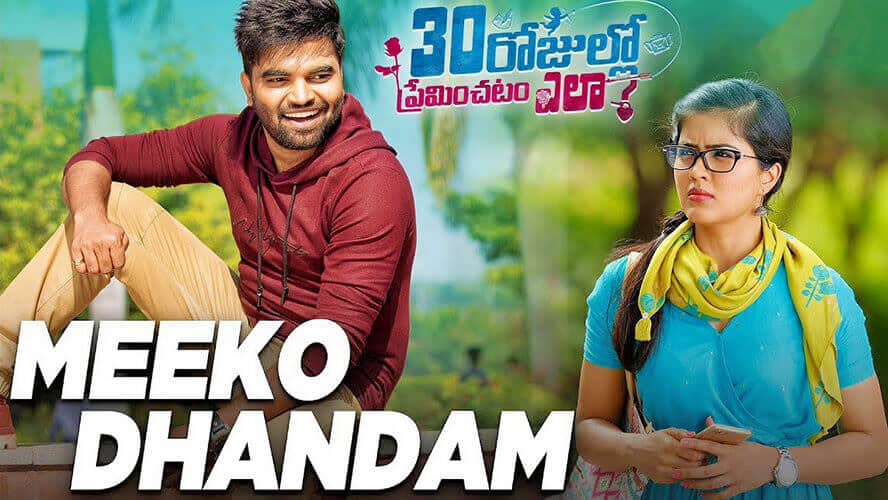 30 ROJULLO PREMINCHADAM ELA | MEEKO DHANDAM SONG LYRICS
Aa! Arey Adavalla Matalaku, Ardhalenno,
Annadu Pawan Kalyananna,
Adavalla Life-lona Labhalenno,
Chebuthanu Nenu Chudanna,
Oye! Facebook-u Lo Na Like Lu Meeke,
Mistake Meedhaina Sympathy Meeke,
Nakka Thoka Kadhu Ammayilu,
Dhani Akka Thokkinare, Yeah! Yeah! Yeah!
Vaddoddhu Thalloye Meeko Dhandam (x3),
Arey Vaddoddhu Thalloye Meeko Dhandam.
Aiyo Rama Aiyo Rama Abbayile,
Meeru Adrushtanike Xerox Le,
Intiperu Nilabette Varasulantu,
Meeru Puttagane Pedda Certificate,
Chokka Vippesukunte Style Antare,
Ma Chunni Jarithe, Racha Racha Avuthunde,
Night Antha Meerinka Freak Out-Le,
Memu Late Ayithe,Intlona Shootout-le,
Meeru Entha Mandhi,
Ammayilatho Tirigesthu Unna,
Krishnuditho Polusthare, Ey! Ey! Ey!
Vaddoddhu Baboye Meeko Dhandam (x4).
Twenty Rupees Tho, Brother Ke Rakhi Kadathare,
Total Purse Antha Gunjuthare, Oye! Oye!
Urgent Antare Sister Ne Appuadigisthare,
Apai Ip Pedathare, Munchuthare Oye! Oye!
Phone Billu Food Billu,
Gullona Vese Hundi Billu,
Boyfriend-u Job Nundi, Kollagadathare,
Childhood Nundi Chadhuvula Billu,
Girlfriends Andharaki Kattina Billu,
GST Tho Kalipi Dowry, Rupam Lo Dochesukuntare,
Vaddoddhu Baboye Meeko Dhandam (x3),
Vaddoddhu Thalloye Meeko Dhandam (x2),
Dhandam! Dhandam!
Strong Ga Memunte, Attitude Antu Thidathare,
Adhi Meelo Unte Confidence,
Meekemannayithe Media, Support Chesthunde,
Makemannayithe Evadu Rade, Oye Oye,
Marriage Meekaithe Family Tho Kalisuntare,
Mememo Parents Ni Vadhilesi Vellale,
Peddavalle Match-Ye Chusarantu,
Chinna Sorry Cheppi, Meere Hand Ye Isthe,
Ma Sethilona Seesaley, Arey, Ma Sethilona Seesale,
Meeku Foreign Visa Le, Yeah! Yeah! Yeah!
Vaddoddhu Thalloye Meeko Dhandam,
Vaddoddhu Baboye Meeko Dhandam (x2).
Meeko Dhandam Song Details
Film/Album: 30 Rojullo Preminchadam Ela
Lyrics by: Chandra Bose
Singer: Dhananjay, Mohana Bhogaraju
Composer: Anup Rubens