Meenamma Athikalaiyilum Song Lyrics AKA Meenamma Adikalayilum track from Aasai movie of Ajith Kumar with English translation is a romantic Tamil song.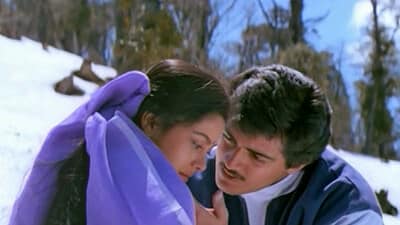 | | |
| --- | --- |
| Song Name: | Meenamma Adikalayilum (Tamil) |
| Album/Movie: | Aasai (1995) |
| Singer(s): | P. Unni Krishnan, Anuradha Sriram |
| Lyrics Writer(s): | Vaali |
| Music Director(s): | Deva |
| Music Video Features: | Ajith Kumar, Suvalakshmi |
AASAI MOVIE | MEENAMMA ADIKALAYILUM SONG LYRICS | ENGLISH
Meenamma, Adhikalaiyilum Andhimalaiyilum Undhan Nyabagame,
Ammamma, Muthal Parvaiyile Sonna Vartheillam Oru Kaviyame,
Meenamma, early in the morning and in the evening, your thoughts only.
The word you said, at first sight, is an epic.
Chinna Chinna Oodalgalum Chinna Chinna Modhalgalum,
Minnalpola Vandhu Vandhu Pogum,
Oodal Vanthu Modhal Vanthu Muttikonda Pothum,
Inghu Kadhal Mattum Kayam Indri Vazhum,
Small small quarrels and small strikes will come and go like lightning.
Even if small fights come and dash, love alone will live without damage.
Iru Madhanghal Natkal Sella,
Niram Maridum Pookal Alla,
Meenamma, Adhikalaiyilum Andhimalaiyilum Undhan Nyabagame,
Months and days will pass,
This is not the flowers that change colours.
Meenamma, early in the morning and in the evening, your thoughts only.
Oru Chinna Poothiriyil Oli Sinthum Rathiriyil,
Intha Methai Mel Ilam Thathai Pol Puthu Vithai Kattidava,
Oru Jannal Angirukku Thendral Yetti Parpatharkku,
Athai Moodamal Thazh Podamal Ennai Thottu Thenduvatha,
In a small flower cord, in the bright coloured night,
In the bed, to this parrot, shall I show new magic?
A window is there to peep into that, without closing that comes to touch me.
Mamankaran Thane Malai Potta Nane,
Mogam Theerave Methuvai Methuvai Thodalam,
Meenamma Mazhai Unnai Nanaithal,
Inghu Enakkallava Kulir Kaichal Varum,
Ammamma Veyil Unnai Adithal,
Inghu Enakkallava Udal Verthu Vidum,
I am your darling, m! the bed let me hug to full fill my desire.
Meenarrrma, if rain you drench I'll get the fever.
If you go in the sun I'll get sweat.
Andru Kadhal Panniyathu Unnthan Kannam Killiyathu,
Adi Ippothum Niram Maramal Intha Nenjil Nirkkirathu,
Angu Pattu Selaigalum Nagai Nattu Pathiramum,
Unnai Kettene Sandai Pottene Athu Kannil Nirkirathu,
Jathi Malli Poove Thanga Vennilave,
Asai Theerave Pesalam Muthal Nal Iravu,
The love I made, the time I pinched your cheeks,
Remain in my heart even now without any change.
Silk sarees, jewels and vessels,
I asked you and fought with you, and that are in my eyes.
You a jasmine flower! Golden moon!
Let us talk a lot on the first night.
Meenamma Unnai Nesikkavum,
Anbai Vasikkavum Thendral Kathirukku,
Ammamma Unnai Kadhalithu,
Puthi Pethalithu Pushpam Poothirukku.