Read Meenamma Lyrics for Super Machi (2020) movie in Venu Srirangam, Geetha Madhuri's vocals, that is the latest Telugu song. Rachita Ram, Kalyaan Dhev starring music video for 'Meenamma' has video-direction from director Puli Vasu. Krishna Kanth inked-down the verses, S. Thaman composed Telugu music for Meenamma's lyrics.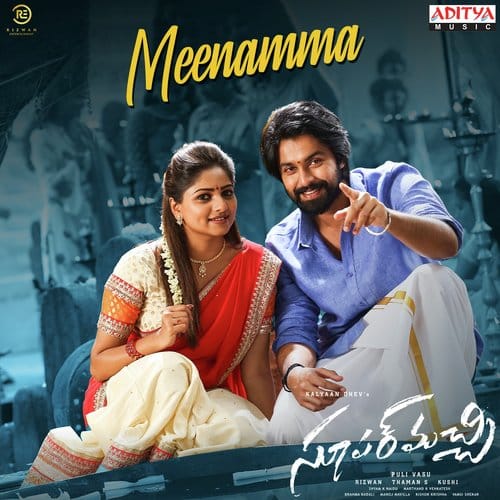 Super Machi (2020) FILM | Meenamma Telugu SONG LYRICS
Andhala Rakshasila Nannu Dhoche Pilla Chaley,
Mukku Meedha Kopamunna Muddhumuddhuguntey Chaley,
Andhala Rakshasila Andhamoti Unte Chaley,
Konte Konte Chethalunna Thattukuntaley,
Meenamma Thechhe Bharam Needhe Choodamma,
Meenamma Nachhelaga Nuve Chudamma,
Andhuna Andhala Komma,
Nannala Mechhaloyamma,
Andhulo Raji Kanamma,
Andhuke Nammanoyamma,
Chakkani Chukke Thevamma,
Challaga Dheevincheyamma,
Ninna Monna Ledhe Asalu,
Nijamai Vache Nave Kalalu,
Dhaggarikosthe Yedho Gubulu,
Gundellone Yegase Alalu,
Nena Nena Natho Undilena,
Neetho Chere Aina Aina Unte Bagundena Ne Ne Ne Ney,
Meenamma Thappe Nadhi Mannincheyamma,
Meenamma Manasukanna Andham Ledhamma,
Needakem Rangundhoyamma,
Thodune Veedepodhamma,
Roopame Mukhyam Kadhamma,
Kantike Dhooram Unchamma,
Gundelo Dhastha A Bomma,
Guttuga Premisthanamma,

Meenamma Music Video | Super Machi (2020)
Watch the music video for 'Meenamma' Telugu Song starring Kalyaan Dhev, Rachita Ram.