Mehabooba Kannada Song Lyrics with English meaning from the Kannada movie 'KGF Chapter 2' featuring Yash is a wonderful song, and it has fantastic singing by Ananya Bhat. The scenic lyrics of the Mehabooba Kannada canticle are penned down by Kinnal Raj. Ravi Basrur is the tunesmith of MEHBOOBA's hallucinatory music. The interesting music video of the serenade is administered by Prashanth Neel.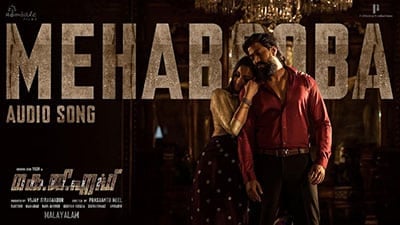 KGF 2 Kannada MOVIE · MEHABOOBA TRACK LYRICS ENGLISH MEANING
Neenu Ahvana Neralagi Iruvena,
Summon me into your life.Let me be your guardian angel!
Manada Mahalalli Bachiduve Jopana,
Deep within my soul space, I will safeguard with utmost care!
Ninnondige Nanu Baruve, Eduragi Bandaru Jagave,
I shall accompany you thus, Even if the world goes against us!
Nooraru Prashnegalige, Nee Nanna Uttarave,
To all the questions that may arise, you are my only answer!
Mehbooba Mai Teri Mehbooba,
Beloved, I am your Beloved!
Mehbooba Mai Teri Mehbooba X2
Beloved, I am your Beloved!
Arambhavadanta Ee Yanavu, Seroke Hosa Tanavu,
Our journey that has begun to reach our new abode of love.
Baki Maru Janmaku Beku Ee Preethiyu,
Need your devoted love till eternity,
Ninna Anulapa Mathalli Na Beelalu,
To bask in everlasting passion!
Naku Dikkalliyu Preethi Hasiragalu,
Love blossoms in all directions,
Inde Hosa Loka Rachisona Navibbaru,
Let's create our new world now.
Kai Gombe Agale Nanu, Nagisuvea Dinavu Neenu,
If I am by your side will you keep me joyous all the while?
Ninnalle Uliyuve Nanu, Idakinta Innenu,
My wish is to die in your arms. This is all I yearn for!
Mehabooba Mai Teri Mehabooba,
Beloved, I am your Beloved!
Mehabooba Mai Teri Mehabooba X2
Beloved, I am your Beloved!

KGF Chapter 2 Film's Mehabooba (Kannada) Music Video | Yash
Take a look at the unique music video for Mehabooba (Kannada) from a interesting movie KGF Chapter 2.
Stream Mehabooba (Kannada) Song Lyrics that Ananya Bhat exquisitely crooned and are featured in the KGF Chapter 2 film of Yash . Kinnal Raj has written down the Mehabooba Kannada lyrics and Prashanth Neel controlthe music video.