Mehabooba (Tamil) Lyrics with English translation from the Tamil movie 'KGF Chapter 2' featuring Yash is a superb song, and it has engaging orals by Ananya Bhat. The well lyrics of the Mehbooba Tamil love-anthem are given by Madhurakavi. Ravi Basrur is the director of MEHABOOBA (Tamil)'s stellar music. The paradisiacal music video of the canto is dominated by Prashanth Neel.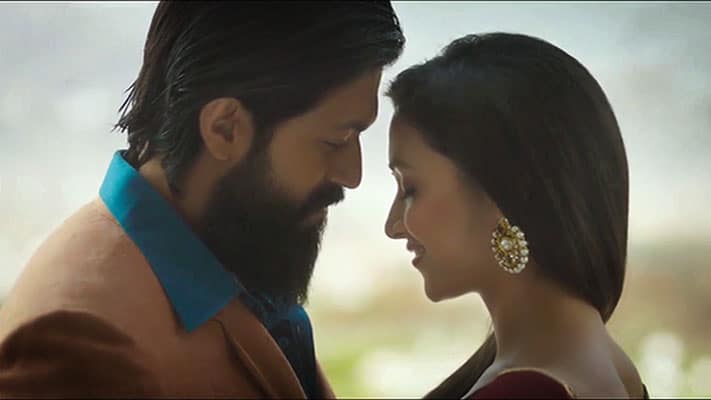 KGF CHAPTER 2 TAMIL MOVIE · MEHABOOBA Tamil SONG LYRICS ENGLISH MEANING
Va Va En Anbe, En Vazhvin Peranbe,
Welcome, my prince! Come home to my heart.
Vanthai Kann Munbe, Idhu Nijama Sol Anbe,
In your beautiful soul, I am the love story.
Un Kangalum Kadhal Pesum,
Laying out my flurry of feelings,
En Tharunam Malarum Suvasam,
Swaying in the waves of joy,
Un Tholgalil Sayum Neram,
Within the fortress of trust
Uyir Thulirum Perazhaga,
You are the king of romance.
Mehabooba Main Teri Mehabooba,
Beloved, I am your beloved.
Mehabooba Main Teri Mehabooba,
Darling, I am your darling.
Poo Vaika Poongatru, Seer Seithathe,
Our journey that has begun,
Puthu Vanam Poo Thoovuthe,
To reach our new abode of love,
Konjal Mozhi Pesidum, Oomai Kili Nanada,
Need your devoted love toll eternity,
Nenjai Vali Theerkkum Marundhalan, Nee Thanada,
To bask in everlasting passion.
Vazhvin Ver Neengidum Kalam Idhu Thanada,
Love blossoms in all directions,
Anbin Neer Varkum Mugilalan Nee Thanada,
Let's create our new world now.
Un Kaigal Theendum Tharunam,
If I am by your side,
Nan Thaninthen Thaninthen Salanam,
Will you keep me joyous all the while?
Ini Vazhkaiyil Yethu Maranam,
Embrace me with your open arms!
Nan Eduthen Puthu Jananam,
My dear, prince charming!
Mehbooba Main Teri Mehbooba,
Lover, I am your lover.
Mehbooba Main Teri Mehbooba
Lover, I am your lover.

KGF Chapter 2 Film's Mehabooba (Tamil) Track | Yash
Let's stream most recently published music video for Mehabooba (Tamil) from a paradisaical movie KGF Chapter 2.
Stream Mehabooba Tamil Song Lyrics that Ananya Bhat tastefully sung and are featured in the KGF Chapter 2 film of Yash . Madhurakavi has documented the Mehabooba Tamil lyrics and Prashanth Neel formal the music video.