Lyrics to 'Mithi Mithi' a new Punjabi song by 'Amrit Maan' & 'Jasmine Sandlas' with catchy music production by Intense.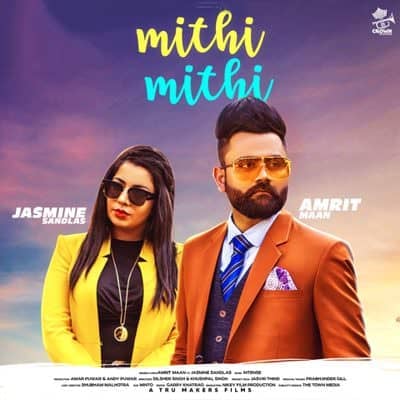 MITHI MITHI LYRICS from JASMINE SANDLAS & AMRIT MAAN – It's a freshly released song from Crown Records label. Amrit Maan has drafted down the entertaining song stanza with its music video directed by Tru-Makers.
MITHI SONG LYRICS | AMRIT & JASMINE
Goniane aala!
Gulabi queen! Intense music!
Male: Lakhan turiyan phiran goriyan,
Tuhi jach gayi akhan nu,
Hun tak sunde aye aan
Par ishq na hoya jattan nu,
Mitran nu kar gayi click baliye,
Sachi dassan look teri sick baliye,
Lifetime mitran nu bond kar la,
Takda begani nai koi chick baliye,
Takkda begani naiyo chick baliye.
Naram jeha gabru, haye gabru
Par tikhi-tikhi tu,
Gaddi kali haye kali,
Par chitti-chitti tu,
Ishq thoda kauda haye kauda,
Par mithi-mithi tu.
Female: Tere nal main laiyan akhiyan,
Bhul gayi hosh zamane di,
Naina wichon piya kar,
Tainu ki lod mehkhane,
Tainu ki lod mehkhaane di.
Kudi main kalli, kara chhalli
Maraan fire je akh da ve,
Kurta kala sire aala
Tere baala jachda ve,
Jodi aini sohni nai honi,
Jag tahin machda ve.
Male: Tu gift god da ae,
Naale khed naseeban da,
Vadda ameeran ton, eh dil gareeban da (x2),
Dil gareeban da.
Ni high tera nakhra
Haye nakhra, par nikki-nikki tu.
Gaddi kali haye kali
Par chitti-chitti tu,
Ishq thoda kaurha haye kaurha,
Par mithi-mithi tu.
Female: Tohar meri kardi appeal mundeya,
Karta Miami sara seal mundeya,
Katlan de case mere sir paine ne,
Labb la koi changa jeya vakeel mundeya,
Labb la koyi changa jeyaa vakeel mundya.
Modday te dharke mere karke,
Rafal dunali rakhda ve.
Kudta kaala siray aala
Teray bahla jachda ve,
Jorhi aini soni nayi honi,
Jagg taahin machda vay.
Male: Do-tin saalan baad goriye,
Munda notice kita tu,
Utte laake rakhdi ae jo,
Kaale rang DITA tu,
Akh meri boldi ae,
Motte peg doldi ae,
Jattan nu vi rahi koi hosh na,
Walk meri dekh ke ve
Dooron matha tekde ve,
Aape mari jande mera dosh na
Ehde wich maana mera dosh na.
Male: Goniane aja haye aja
Ban ke maana di noohn.
Gadi kali haaye kaali
Par chitti-chitti tu,
Ishq thoda kauda haye kauda,
Par mithee mithee tu.
Mithi Mithi Song by Amrit Maan, Jasmine Sandlas

Gaana
Play for free