Mohtarma featuring Ruba Khan is a tasty song, and it has a delicious voice lent by Upasana Gahlot, Khasa Aala Chahar. The irresistible lyrics of the song are drafted down by Khasa Aala Chahar. DJ Sky is the constructor of MOHTARMA's dreamboat music. The luxuriant music video of the enticing limerick is oriented by Ameet Choudhary.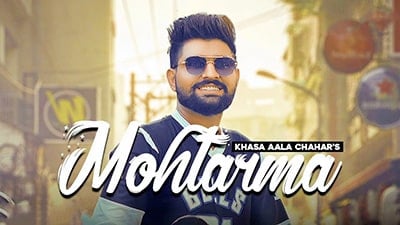 | | |
| --- | --- |
| Track Name : | Mohtarma |
| Performing Artist: | Khasa Aala Chahar |
| Lyricist: | Khasa Aala Chahar |
| Music Maker: | DJ Sky |
| Director: | Ameet Choudhary |
KHASA AALA CHAHAR · UPASANA GAHLOT · MOHTARMA FULL SONG LYRICS
Oh Na Koi Andar Na Koi Bahar,
Jud Gaye Dil Te Dilke Tar,
Ghar Aur Dil Ki Khol De Khidki,
I Wanna See You Baram Bar,
Oh Tane Lewan Ne Main Aya,
Aja Gali Teri Te Bahar,
Aja Gali Teri Te Bahar,
Aja Gali Teri Te Bahar,
Ho Mere Dilke Kamre Me,
Bas Tera Basera Hai,
Teri Gael Ya Sham Dhale,
Teri Gael Sawera Hai,
Oh Tu Duniya Te Darle Yar,
Karna Saream Na Pyar,
Nyun Tu Seh Ni Pavega,
Bhai Ali Mar Ne,
Oh Tere Bhaiya Ne Samjha Loon,
Tere Ghar Kya Ne Mana Loon,
Oh Tane Laiju Baitha Ke,
Doli Ali Car Mein,
Oh Tu Sukh Aur Chain Mera,
Na Tere Bina Guzara Hai,
Tere Pyar Ki Kishti Main,
Tu Mera Kinara Hai,
Oh Ha Ji Bilkul Pyar Karenge,
Sidha Dil Pe Var Karenge,
Darling Dont Worry Ho Jao,
Na Kabhi Dil Se Bahar Karenge,
Ha Ji Poora Hai Vishwas,
Tu Hai Dilke Sabse Pass,
Tere Sath Mein Mane Jeena,
Tere Te Sari Se As,
Sab Se Pyari Tu,
Tujhe Dua Humari Hai,
Oh Khyal Rakh Mohtarma,
Tu Jan Hamari Hai,
Oh Sunle Khasa Ale Chahar,
Na Gede Gali Merike Mar,
Tera Pesha Shayri Karna,
Kade Tu Jhootha Karja Pyar,
Manu Su Peshe Te Shayar,
Par Na Teri Khatar Lier,
Ik Bari Ha Tu Mane Karde,
Yara Ne Karne Se Fire,

Let's read the striking lyrics of Khasa Aala Chahar, Upasana Gahlot's modern Haryanvi song Mohtarma. The ink slinger Khasa Aala Chahar gives the top-of-the-line lyrics.