MTV Hustle 03 Anthem is a powerful and motivational rap song featuring five talented and famous rappers from India: Ikka, Dee Mc, Dino James, Epr, and Badshah. Karan Kanchan, a well-known music producer and composer in the Indian rap scene, also wrote and produced the song. It was released under the music label T-Series, one of India's leading music companies.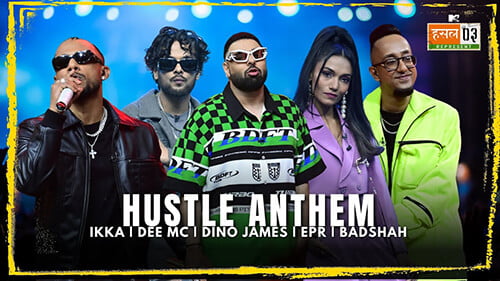 The 'Hustle Kar Tu Hasil Kar' song lyrics message everyone with a dream and a passion to pursue it. The lyrics inspire and challenge everyone to hustle hard and achieve their goals. The lyrics also celebrate the diversity and unity of Indian rap music, as the rappers represent different regions, languages, and rap styles. The lyrics are energetic and catchy, using rhymes, metaphors, and references to create a memorable and impactful rap.
The song is featured on MTV Hustle 03, a reality show showcasing the talent and journey of aspiring rappers from different parts of India. The MTV Hustle 03 Team, who have established a platform for promoting and supporting Indian rap music, is in charge of directing the show. The show also provides mentorship and feedback to the contestants, who compete for India's best rapper title.
MTV HUSTLE 03 ANTHEM SONG LYRICS
03 Ye Hustle Hain
Rap Ka Ye Rumble Hain Cheen Ke Lenge Inam
Yeh Chambal Hain
Karan Ki Beaton Pe Bars Ka Dangal Hain
Hunar Hain Tujhme Toh Jeet Mukamal Hain
Kalam Se Kalam Jo Karde Woh Kalam Hain
Yeh Tujhse Shatir Yeh Inn Sab Ka Bharam Hain
Aisa Bana Tu Sangeet Jo Marham Hain
Nishchay Kar Apni Tu Jeet Confirm Hain
Halla Machade Baja De Danka
Aade Koi Aaye Toh Laga De Lanka
Khud Pe Yakeen Mita De Shanka
Talent Se Sabhi Ko Bana Le Pankha
We Rappin'
Haq Se Gully Ko Haq Se Kala Ko
Haq Se Hiphop Ko Haq Se Samaj Ko
Haq Se Likhayi Ko Haq Se Aawaz Ko
Haq Se Lenge Hum Hustle K Taaj Ko
Hustle Kar Tu Hasil Kar, We Hustle Hard!
Khudki Soch Ko Represent Kar
We Hustle Hard!
[Dee Mc]
Jo Karu Feel Woh Karu Represent
Hue Das Sal Took🤰 My Pen🖊 To Vent
Diya Maine Sab Kuch Isko Yeah
Kahaniya Sunao Main Yeh Kisko Huh
Rasta Adate Jo Khisko
Yahape Pana Hain Kuch Toh Risk Lo
Firr Toh, Hoga Rasta Aasan Hoon Na Main Sath
Dar Tujhe Kis Bat Ka Yeh Kar Ehsas
Lamba Hai Rasta Tera Prayas
Chuke Jayega Asman Na Ho Nirash
Always Believe🤔 In Every Word You🖕 Say
Thoughts Come And Go
Never Let Them Stay
Life Mein Aake Sikhana Chahate Kafi Log
Khudse Khud Tak Ka Rasta Tu Khud He Khoj
Aankhe Khud Hi Khol Aage Dekh Abhi
Khada Tere Kaun Hani
Ishwar Ka Roop Yaha, Tu Khada Phir Kyu Maun Hain
Dee Mc Dynamites, Yaha Pen🖊 Mein Hain Might
Competition Not🤞 In Sight
Many Men👬 Wish🙏 Death💀 Upon Me
But I Keep It Zen 10
Hustle Kar Tu Hasil Kar We Hustle Hard!
Khud Ki Soch Ko Represent Kar, We Hustle Hard!
[Dino]
Hustle 03 Go🚶 Back↩️ With The Goats
Badlega Scene Ab Badlega Soch Mila Hain Mauka Tu Chhodna Nahi Dost
Khula Hain Scope, Dhundu Main Dope
Artist Hain Raw, Higher Hain Hope
Bada Ye Show📺, Mauka Le Nooch
Atkega Bol Kar Dunga Tow
Ye Hustle Ka Stage Hain Asal Ka Khel
Masalta Page📄 Hain Saralta Jail Hain
Chance Hain Tu Pel De Alag Ye Scale⚖ Hain
Struggle Aur Passion Ka Mel Hain
Badalti Dekhi Kismate
Mera Khuda Isse Vaqif Hain
Awaz Aawam Ki Tu Qasid Hain
Hustle Karega Sab Hasil Hain
Hustle Kar Tu Hasil Kar, We Hustle Hard!
Khudki Soch Ko Represent Kar, We Hustle Hard!
[Erp]
Certified A Normal Guy
But On🔛 The Mic, Main Poore Dhh Ka Bana Jo
Einstein Podolsky Rosen
Beat Pe Street Fight⚔ Toh Ryu – Hadouken
Itne Sick🤒 Rhymes No❌ – Ibuprofen
Would It Be Crime? I Murder With Pen
Jo Bole Mujhe Log, I Eat🌭 The Dictionary For Breakfast
Tabhi Toh Bani Ye Fluency With Practice
Teacher Teaching🏫 You🖕 Indeed, What Rap Is
Tabhi Toh Manch Pe Khada Taking Your👈 Classes
Art Hain Meri Arteries Mein Artemis Ka Sath
No Orion Can Resist Bat Meri
Jo Bach Ki Music Boxin Open
Run The Scene I Mean Arsene Lupin Uh
Kitne Rappers Kitne Kabil
Kiska Ka Hain Garam Khoon Aur Kisme Kranti
Kitne Kafi Kitne Poems Kisme
Enroll Karo Jab Admissions Open🔓 Uh
Hustle Kar Tu Hasil Kar, We Hustle Hard!
Khud Ki Soch Ko Represent Kar, We Hustle Hard!
[Badshah]
Yudh Bhumi Shunya Teen Ki Shuruat
Kalam Kranti, Alankari Itihas
Kalakari, Gadadhari Andaz
Shabdon Ki Bhatti Ka Tu Lohar
Chale Jo Bankar Aandhi Tu
Jeetne Ki Adat Pad Jaye
Jo Bhi Ho Teri Adchane Toh
Kuch Kar Dikhane Ka, Ek Mauka Hain
Alfazo Ko Tere Aawaz Mile Toh
Jage Andar Ki Aag Hain
Kabhi Na Kabhi, Khud Se Poocho
Tera Representing Ka Kya Tareeka Hain
Baje Manch Pe Banger Pe Banger,
Flow Ki Dukanen Khole Kehkar
Kara De Poore Audience Ko Mosh Pit
Are You🖕 Ready To Hustle Uh?
Hustle Kar Tu Hasil Kar, We Hustle Hard!
Khudki Soch Ko Represent Kar, We Hustle Hard!
Dee Mc And Dino🦕 James Ke Sang
We Hustle Hard
Ikka Epr And The One1️⃣ And Only Badshah
We Hustle Hard

MTV HUSTLE 03 ANTHEM MUSIC VIDEO
The song MTV Hustle 03 Anthem is a perfect example of how lyrics, music, and visuals can come together to create an inspiring and impressive experience. The song lyrics are powerful, motivational, and catchy. The music is upbeat, dynamic, and groovy. The visuals are stunning, colourful, and authentic. The song MTV Hustle 03 Anthem is a must-listen for anyone who loves rap music or MTV Hustle 03.
SONGS FOR YOU
Sajna Say Yes To The Dress [Telugu Version] — Badshah
Gone Girl (Ladki Kharab Kar Di) — Badshah, Payal Dev
Sab Gazab — Badshah
MTV HUSTLE 03 ANTHEM SONG DETAILS
Track Name
Mtv Hustle 03 Anthem
Singer(s)
Badshah, Dino James, Ikka
Lyrics Writer(s)
Ikka, Dee MC, Dino James, EPR, Badshah
Composer(s)
Karan Kanchan