Translation for 'Mujhe Ishq Sikha Karke Lyrics' from film Ghost of Vikram Bhatt, Sanaya Irani & Shivam B. Jyotica Tangri is performer & Sanjeev Darshan is director of music. Check out, meaning of Mujhe Ishq Sikha Karke full song with lyrics.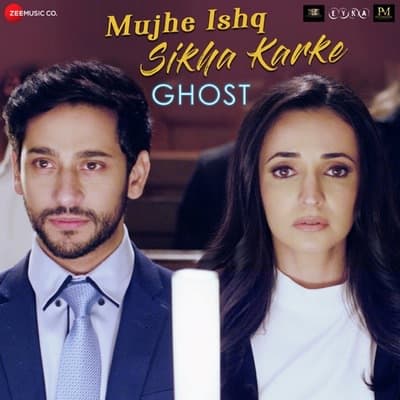 Name of Song: Mujhe Ishq Sikha Karke (From "Ghost")
Singers: Jyotica Tangri
Lyricist: Sanjeev Ajay
Music Director: Sanjeev Darshan
Label: Zee Music Company
MUJHE ISHQ SIKHA KARKE LYRICS MEANING (FROM "GHOST")
Haan Mujhe Ishq Sikha Karke,
Rukh Mod To Na Loge,
Rakho Haath Mere Dil Pe,
Kaho Kabhi Chhod Toh Na Doge,
After teaching me to love;
You wouldn't turn back on me right?
Put your hand on my heart;
And tell me that you won't leave me.
Kisi Aur Ke Mat Hona Tum,
Jeete Jee Main Mar Jaaungi,
Jo Tumne Nazar Pheri Toh,
Main Toot Bikhar Jaaungi,
Never belong to someone else, O beloved.
That could take my life away.
If you would forsake (or ignore) me,
It will break me into pieces.
Bakhuda Tu Mera,
Tu Mera Rehbara,
Godly (or righteously), You're mine.
You are my guide (or mentor).
Maayoos Kabhi Ho Jaaun,
Toh Aake Hasaana Tum,
Kabhi Rooth Gayi Tumse Toh,
Mujhe Aake Manaana Tum,
If am ever sad;
Come and make me smile.
And if I ever get angry with you.
You should still come after and persuade me.
Seene Se Laga Ke Rakhna,
Dhadkan Ki Tarah Hardum,
Mera Ishq Ruhaani Tumse,
Sun Jazb Mere Humdum,
Always keep me closer.
Like a heartbeat.
My love for you is spiritual.
Listen to the spirit, O companion.
Dil Bol Raha Hai Tumse,
Saanson Mein Utar Jaao,
Jitna Tumhe Chaahun Main,
Utna Mujhe Tum Chaaho,
My heart is asking you to unite with my breaths.
I wish you to love me the same as I love you.
Bakhuda Tu Mera,
Tu Mera Rehebara,
Righteously, you mine.
You are my guide mentor.