NA JA TU SONG with translation of its full lyrics composed, penned by Tanishk Bagchi with leading vocals from 'Dhvani Bhanushali' is the latest track. Learn the meaning of each song line in English.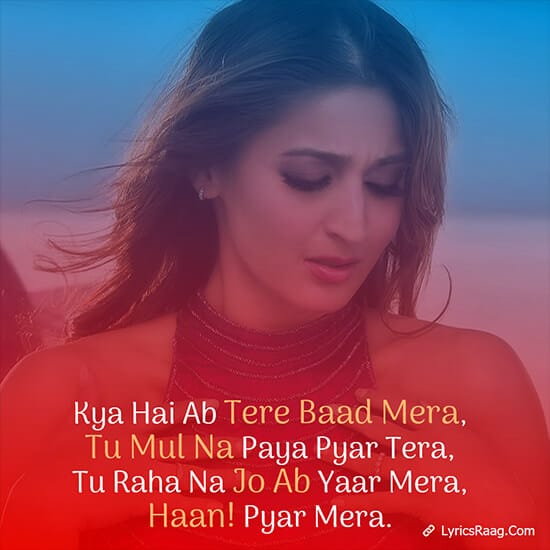 | | |
| --- | --- |
| Title of Song: | Na Ja Tu |
| Vocalist(s): | Dhvani Bhanushali, Shashwat Singh |
| Star Cast: | Dhvani Bhanushali, Gurjiwan Sekhon |
| Songwriter(s): | Tanishk Bagchi |
| Music Director(s): | Tanishk Bagchi |
| Video Director(s): | Sumit Dutt |
| Music Company: | T-Series |
DHVANI BHANUSHALI | NA JA TU LYRICS | ENGLISH MEANING
Dukhan Di Roti, Soolan Da Saalan (x2),
Bread of sadness, and the sauce of spikes.
[For a heartbroken one, grief is his meal (he feeds on it), and his everlasting thoughts (or love memories) are the spikes (or needles) poking in his mind.]
Na Ja Tu Door Akhiyon Se, Ke Nai Jana, Nai Jana,
Please don't far from my sight. Please, don't.
Ke Tut Jaaun Main Dil Se Door,
Tu Nai Jaana, Nai Jaana.
It will break my heart if you go away. So, please do not go, dear.
Kya Hai Ab Tere Baad Mera,
Tu Mul Na Paya Pyar Tera,
What do I have except you? Still, you haven't valued your love.
Tu Raha Na Jo Ab Yaar Mera, Haan! Pyar Mera.
You are no longer my beloved and my love.
Tujhe Kadar Nahin Ik Baar Meri,
Jo Maine Ki Har Baar Teri,
Even once you didn't value me, as I always did for you.
Ro-Roke Thak Gayi Akhiyan Meri, Mere Yaar Na Jaa,
Though my eyes are tired of crying. Please, do not go, my friend.
[Dukhaan Di Roti Soolan Da Saalan]
Mere Yaar Na Jaa!
The bread of sadness! The sauce of spikes!
Please, do not go, my friend.
Subha Se Shaam Tak Dekhun Tujhe,
So'un Nahin, So'un Nahi,
I adore you from morning till evening and don't sleep at nights.
Haan Mere Paas Hi Reh Jaao Na,
Yahin Kahin, Yahin Kahin,
Please, stay with me. Here, close to me.
Main Ho Gayi Hoon Khud Se Bekhabar,
I have become unknown to myself.
Khoya Maine Sabar, Ye Tera Hi Asar,
I have lost my patience, and it is the dominance of your love.
Tere Liye Bhooli Main Ye Jahaan,
For you, I have forgotten the world.
Na Jaane Tu Kahan, Gaya Oh Humsafar,
Not sure, where have you gone, O companion.
Mere Yaar Na Ja!
Please, do not go, dear.
Tu Rok Na Mujhe, Hai Jeena Tujhe Mujhse Judaa, Mujhse Judaa,
Do not stop me, dear. You have separate from me and continue to live alone.
Tujhse Nahin Hoon Main
Main Toh Khud Se Hi, Hoon Khafa, Main Hoon Khafa.
I am not displeased with you, but with myself.
Tootega Dil Na Kabhi Aisa Kar,
Jo Kiya Tu Agar, Main Jaungi Bikhar,
It will break my heart, So I request you not do like this.
But if you would still go away, it will completely break me.
Tere Bina Kya Mera Hai Yahan,
What do I have here without you?
Tujhi Mein Hai Jahaan, Kyun Hai Tu Bekhabar,
My world is with you. Why do you not know it?
Mere Yaar Naa Jaa! Nai Jana!
My friend, please do no go!
Tumhe Kho Kar Maine Apne Aap Ko Paa Liya!
After losing you, I found my true self.

Na Ja Tu is a heart-warming Hindi track, and Dhvani Bhanushali hummed it, as well as she performed in its music video alongside actor Gurjiwan Sekhon. Tanishk Bagchi inks down the touching song lyrics and also produces enjoyable music for it. The above are the lyrics to 'Na Ja Tu Song' and its music video, followed by the track lyrics with English translation for you to know the meaning of the verses.