The song "Naa Ninage Kaavalugaara lyrics" with meaning in English, for James Kannada movie, is an enchanting musical masterpiece that immerses listeners in heartfelt emotions. Sung by the talented Ankita Kundu and Sanjith Hegde, their soulful voices beautifully convey the passionate longing and admiration depicted in the lyrics. The composition by Charan Raj complements the lyrics flawlessly, creating a melody that resonates with the core of one's being.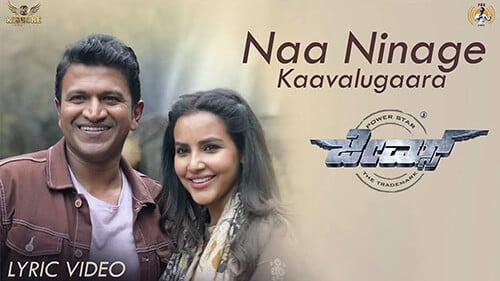 The lyrics for Naa Ninage Kavalugaara, penned by the gifted Chethan Kumar, paint a vivid picture of love and devotion. They eloquently express the overwhelming attraction towards someone's beauty and the silent allure that captivates the heart. The translated verses reveal the singer's unwavering dedication and admiration for the person they adore. The emotions conveyed in the lyrics are heartfelt and evoke a sense of longing, making it an ideal choice for those seeking a romantic and soul-stirring experience.
JAMES KANNADA MOVIE · NAA NINAGE KAAVALUGAARA SONG LYRICS ENGLISH MEANING
Ee Kannina Jalpathada Mele Nintu
Standing on the waterfalls of my eyes,
Hadutide Ee Hrudaya Jokali
My heart is singing a melody,
Atee Sundara Atee Mounada Selethake Sothu
Defeated by the attraction of your beauty and silence
Em Baliside Areya Khaligaiyali
I started following you with bare hands!
Nina Sangha Athirochaka
Your company is enthralling
Prathi Kanasa Nee Malika
You are the owner of my dreams,
Sikkihudu Nanageega Paridoshaka
It is my fortune to have you in my life.
Abhimani Na Ninage Vidhushaka
I am your fan, undoubtedly!
Na Ninage Kavalugara, Kayuvenu Januma Poora
I am your bodyguard; will safeguard you, throughout life.
Na Ninage Kavalugara, Kayuvenu Januma Poora
I am your bodyguard; I will protect you throughout your life.
Sikkihudu Nanageega Pari Doshaka
I am fortunate to have you in my life
Abhimani Na Ninage Vidhushaka
I am your fan, undoubtedly!
Hithihasada Putada Olage Irabahudu Ondu Nantu
Pratigaligegu Ondu Chooru Apugeya Seleta Untu
Sati Illada Notada Dati Ninnadu
Betu Agalu Kayuva Manasu Nannadu
Badalagide Dinachari Beku Ninna Hajari
Ee Hrudayake Neenendigu Rayabhari
Sikkange Agihudu Paridoshaka
Abhinani Na Ninage Veekshaka
Ne Nanage Kavalugara Chiraruniyu Januma Poora
Bit Tiralu Agadu Doora Kalisi Kodu Preetiya Sara

James Film's Naa Ninage Kaavalugaara Music Video | Priya Anand | Puneeth Rajkumar
The music video, directed by Chethan Kumar, adds a visual dimension to the song, immersing viewers in the captivating story. The presence of talented actors like Puneeth Rajkumar and Priya Anand further enhances the narrative, bringing the lyrics to life through their captivating performances. The chemistry between the actors and the expressive storytelling creates a mesmerizing cinematic experience.
Na Ninage Kavalugara Song Details
Name of Song
Naa Ninage Kaavalugaara
Movie
James (2022 film)
Performing Artist
Ankita Kundu, Sanjith Hegde
Lyrics Writer
Chethan Kumar
Music Composer
Charan Raj
Featuring
Puneeth Rajkumar