Naagali Lyrics — This is a dramatic Telugu rap song featuring Amit Tiwari. Roll Rida wrote the rap, while the folk vocals are lent by Pravin Lakkaraju. He's the music producer, too. Harikanth Gunamagari is the director of Telugu entertaining music video for Nagali lyrics.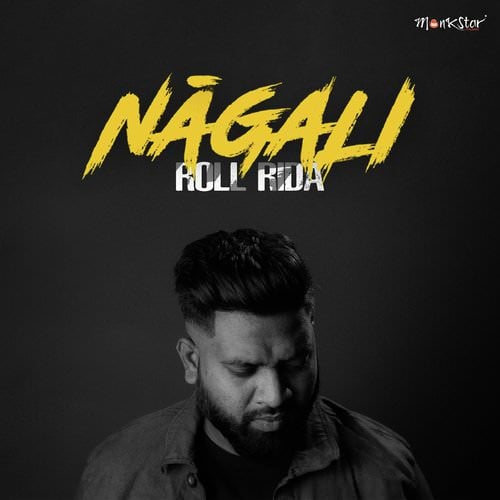 | | |
| --- | --- |
| Song Name: | Nagali |
| Singer(s): | Roll Rida, Pravin Lakkaraju |
| Lyrics Writer(s): | Sree Jo, Roll Rida |
| Music Director(s): | Praveen Lakkaraju |
| Music Video Director: | Harikanth Gunamagari |
| Record Label: | © 2020 MonkStar Music |
| Release Date: | Aug 14, 2020 |
NAAGALI TELUGU RAP SONG LYRICS – ROLL RIDA I PRAVIN LAKKARAJU
Yadakeli Vachavu Raithu Anno,
Yadakelli Poyavu Raithu Anna,
Yadi Marchipoyaru Raithannoo Raithannaa,
Let Me Tell You All A Story,
Rendu Veiyale Padakondu Nade,
Ghorati Darunam Vinnane,Lakshala Shavalu Dorikai,
Bomb Blast Kadayo, Terrorist Kadayo,
Entani TV Varthalu Vinte,
Raithula Atama Hatyalu Anta Ayo,
Vala Tindi Tine Kada Manam Bathukuthunnam,
Tindi Pette Vadne Kada Manam Champesthunnam,
Technology Antu Pillakemi Nerpisthunnam,
Company Antu Raithula Pottalu Mida Tannutunnam,
Varshal Lev Intlovalaki Dug! Dug! Dug,
Pantal Lev Intlovalaki Dug! Dug! Dug,
Dabbul Lev Bankolle Osthe Dug! Dug! Dug,
Ginnelu Unnai Beeyam Lev Dug! Dug! Dug,
Manam Masthuga Untamu,Masthu Pusthiga Tintamu,
Raithulu Pasthulu Untaru, Kondaru Pusthelu Ammaru,
Valaki Kavali Kavaali, Meka Aavulu Kavali,
Neeku Buvva Kavali, Valaki Nuvve Kavali,
Yadakeli Vachavu Raithu Anno,
Yadakelli Poyavu Raithu Anna,
Yadi Marchipoyaru Raithanno Oh,
Chethulu Doralu Kala Mida Paddayi,
Families Road-una Paddayi,
Uyala Kosam Kattina Thadle, Urithadluga Marai,
Polam Lo Pande Pandalla Kanna,
Pakkana Unde Samadalu Ekkuva,
Geethalu Rathalu Marusthai,
Kani Raithula Debbale Geethalu Ra,
Mabbunalechi Mabbulu Rakpothe Bhayamu,
Cheruvu Endipothe Chenuki Bhayamu,
Ganji Lekapothe Gudiseki Bhayamu,
Tirigi Rakapothe Taliki Bhayamu,
Mookkala Kosam Mokkulu Mokkina,
Vana Devude Yamudu Ra,
Chingina Chokkalu Chethiki Pokkulu,
Burdallo Lekunte Gadvadu Ra,
Samrudam Antha Vesina Pantaki,
Adhayam Emo Chinuku Ra,
Pillalu Pedollu Akkalu Chellelu,
Annalu Thammulu Emaipotharu,
Nelani Nammithe Nelapalu Aiyaru,
Neelani Nammithe Nelallo Kalparu,
Eruvuni Nammithe Erroni Chesaru,
Devudni Nammithe Devude Pilichadu,
Yadakeli Vachavu Raithu Anno,
Yadakelli Poyavu Raithu Anna,
Yadi Marchipoyaru Raithanno Oh,
Baitiki Ra Bayapadkunda Baitiki Ra,
Baitiki Ra Eduru Tirugu Baitki Ra,
Baitiki Ra Urkumukuntu Baitiki Ra,
Baitiki Ra Pulivi Nuvve Baitiki Ra,
Memu Bathikithe Nuvvu Bathukuthav
Alochinchu Konchem Eduguthav,
Dorikithe Cherukutham Lanchakundollani Narukutham,
Ah Prakruthi Kuda Ma Pai Kakruthi Le Ra,
Bhoomula Dopidi Dadi Ma Pai Agadu Kada,
Anduke Purugula Manduu Posi Pettala,
Kalthi Chesthe Kosi Pettala,
Mosam Chesthe Masthu Kottala,
Bayapadi Vadu Dandam Pettala,
Mamalni Pedthe Tantala Tantala,
Kalchestham Ninnu Mantala Mantala,
Chivari Korikal Emaina Unte,
Cheppuko Ippude Andari Mundara,
Pranam Ichukuntamu Raithu Anno,
Nela Vidichi Pomaku Raithu Anna,
Nuvvu Leka Buvvedi Raithu Annoo Oh.