Lyrics to 'Naalo Maimarapu' a pleasant Telugu track from 'Oh Baby' film of Samantha Akkineni & Naga Shourya is composed by Mickey J Meyer. Mohana Bhogaraju has lent her adorable vocals for song and "NAALO MAIMARAPU LYRICS" are inked down by Bhaskarabhatla.
NOTE: Translation for this track lyrics are live now.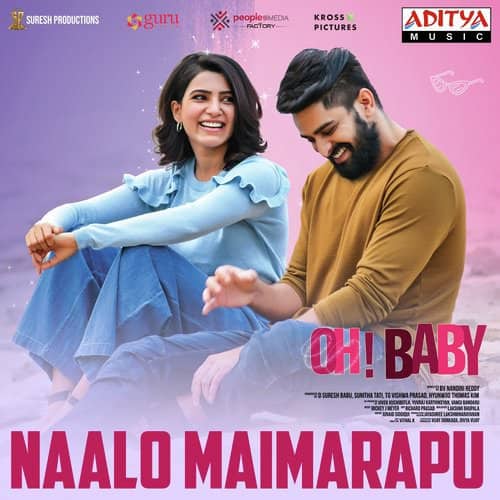 Name of Song: Naalo Maimarapu (Telugu)
Movie Name: Oh Baby (2019)
Singer: Mohana Bhogaraju
Lyricist: Bhaskarabhatla
Music Director: Mickey J Meyer
Actors: Samantha Akkineni, Naga Shourya
Label: © 2019 Aditya Music
OH BABY – NAALO MAIMARAPU SONG LYRICS
Naalo Maimarapu Naakae,
Kanu Saiga Chesthey Ilaa,
Praayam Pradhaalu Theesi,
Parugandhukuntey Elaa,
Nalo Naakey Yedho Thadabaatey,
Aaa!
Paatha Poola Gaali,
Paaduthunte Laali,
Kotha Janma Laga
Entha Chakkagundhey,
Chandamama Jaari Chelimilaaga Maari,
Gorumuddha Naakey Pettinattu Undhe.
Nannu Gaaram Chese,
Batasari Evaruyi,
Nenu Maaram Chesthe,
Navvuthavu Endhukoi,
Naa Swaram Nanney Kotthaga,
Oye Anee Piliche Tharunam,
Ila-Ee Kshanam Silayi Maarithey,
Likinchaali Ee Gnaapakam,
Nuvvu Nannu Choosay,
Choopu Nacchuthondhay,
Nemalipinchamallay Nannu Thaakuthonday,
Telikaina Bháaram,
Dhaggaraina Dhuram,
Saaginantha Kaálam,
Saágani Prayáanam.
Dhachipette Navve,
Kallaloney Thongi Choosey,
Siggu Moggaipoyi,
Gundelona Poolu Poosey,
Naa Mukham Naakey Muddhuga
Chupene Gadhilo Addham
Nizamga Idhi Bhalegunnadee,
Ee Thaithakka Naakenduku,
Aasalanni Malli Pousa Gucchukunte,
Unnapaatu Nene Thullipaduthu Unna,
Vayasu Nannu Gilli,
Kastha Mundhukelli,
Usulaadabothey Endhukaguthunna.
Naalo Maimarapu Naake,
Kanu Saiga Chesthe Ilaa,
I'm in a trance, as my feelings tease me.
Praayam Pradaalu Theesi,
Parugandhukunte Elaa,
My youth has unveiled itself and is blooming like a flower.
Naalo Naake Yedho Thadabaate,
I can't understand this crazy feeling.
Paatha Poola Gaali, Paaduthunte Laale,
Fragrant memories waft around In a new melody.
Kotha Janma Laaga,
Entha Chakkagundhe,
How beautiful is this new life!
Chandamama Jaari Chelimilaaga Maari,
Charming like the moon, he befriends me.
Gorumuddha Naake Pettinattu Undhe,
And makes me fall in love.
Nannu Gaaram Chese,
You indulge me so;
Baatasaari Evarooyi,
My new companion.
Nenu Maaram Chesthe,
When I fuss,
Navvuthaavu Endhukoyi,
I don't know why you laugh at me.
Naa Swaram Nanne Kotthaga,
Oye Ani Piliche Tharunam,
My heart now hums a fresh tune.
Ila Ee Kshanam Silai Maarithe,
Likinchaali Ee Gnaapakam,
If only I could live this moment forever.
Nuvvu Nannu Choose,
Choopu Nacchuthondhe,
Nemalipinchamalle Nannu Thaakuthonde,
The way you look at me.
Makes me feel brand-new.
Telikaina Bhaaram, Dhaggaraina Dhooram,
Saaginantha Kaalam, Saagani Prayaanam,
My heart skips a beat As distances vanish.
May this journey go on, For as long as it can.