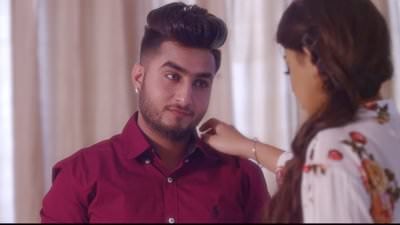 NARAZGI LYRICS – The Punjabi song verses of Khan Saab's latest song has been added with English translation. Majority of users have requested the translations for song "Narazgi" by Khaan Saab, So here it is shared.
NARAZGI SONG LYRICS TRANSLATION
2 pal di narazgi
Ek pál vich mit jaaye
Je tu ek vaari aake
Mere sinne naal lipat jaayein,
You would get off this temporary anger
If you come and hug me once.
Tere mere wich fásla
Ik pal vich mit jáye
Je tu akhan meriyan nu
Ik vaari kite dikh jaayein.
The distances between you and me,
Would end immediately,
If your seen at least at once by my eyes.
Dován vich pe gaya farak jeya
Sub lagda mainu narak jeha
Sub vaade tere jhoothe saabit ho gaye,
Since there has been distances between us
Everything seems like hell to me,
All your promises have proven fake.
Chann nal karaan main gallan
Ohvi mere naal kalla
Assi jaade te taare sare so gaye.
I talk to moon certainly and moon is also alone with me,
We are awake yet all the stars are asleep.
Main mul tera paa laoon
Chahe jind meri muk jaye
Main rusna hi shad dau
Je manauna tuvi sukh jaaye.
I would make it worth,
Even I have to sell my life,
I shall never get angry with you
If you learn to convince me.
Do pal di narazagi
Ik pal vich mit jaye
Je tu ik vaari aake
Mere sinne naal lipat jaye.
This displeasure of your shall disappear instantly
If you come and hug me for once.
Jiss din da tu maitho door ho gaya,
Main hi jaan di aa main kive haan rahi
Aake puchéya na haal mere dil da
Nirmaan tainu meri koyi khabar nahi,
The day you have gone away from me,
I only know how I have lived with myself,
You didn't ask about my heart,
Nirmaan you have no news of me.
Jag sunná-sunná lagda ae
Chaanan tøh vi dar lagda ae,
Main roz intezar tera kardi haán.
The world seems hollow to me,
I am even scared of light now,
Every single day I await you.
Main saari raat na sowaan
Akhaan bhar-bhar ke røwaan
Main hadhon wadh pyaar tera kardi haan.
Whole night I don't sleep, and cry my best,
I love you beyond any limits.
Dikhauna ae kinu aakdan
Tainu pyar main sikhaya si
Tu yaad kar ki si
Jado kol mere aya si.
Who do you show attitude, my love ?
I only taught you to love
Try to remember, what you were ?
When you came to me for the first time?
Mai pair dho ké peé lau
Tu pair taan dhare ve
Meré wall aaon di tu
Je ik koshish kare ve,
I would drink the water in your feet,
You just put your feet on the place,
If you give a try to come to me.
Dø pal di narazgi
Ik pal wich mit jaye
Je tu ik wari aa ke
Mere seene na' lipat jaye.
This short-term anger of yours would go-off instantly
When you would come and hug me..
Main haan Lovey Akhtar
I am Lovey Akhtar!