Nee Kosame is a romantic song from 'Chandramukhi 2 'that expresses the love and admiration of a dancer for her warrior. The lyrics, written by Chaitanya Prasad, are captivating and passionate, describing the dancer's dedication and desire for her lover. Mohana Bhogaraju sings the song, and her voice gives a mesmerizing performance. M. M. Keeravani's music, which combines classical and modern elements, is enchanting and lyrical.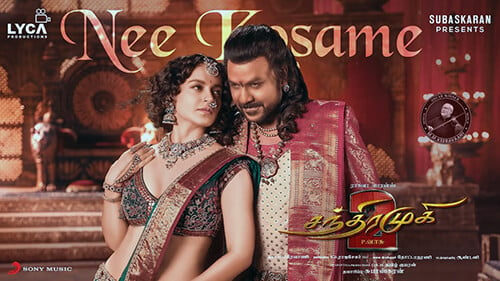 The song features Raghava Lawrence, Kangana Ranaut, Lakshmi Menon, and Mahima Nambiar as the lead actors, who play the roles of Vettaiyan, Ganga, Durga, and Meera, respectively. The film, which P. Vasu directed, is a horror-comedy that comes after Chandramukhi, a well-known Tamil movie. The song depicts the romance between Vettaiyan and Ganga, who is under the influence of Chandramukhi, a renowned dancer from the past. The music video is stunning and graceful, showing the dance and chemistry of the actors.
Nee Kosame is a song that will make you feel the love and attraction of a dancer for her warrior. It is one of the most beautiful songs from Chandramukhi 2 and one of the best works of M. M. Keeravani. If you are looking for a song that will charm you with its elegance and emotion, Nee Kosame is the one for you.
CHANDRAMUKHI 2 MOVIE | NEE KOSAME SONG LYRICS ENGLISH MEANING
Veeradhi Veerudaveera, Nee Sati Yevvaru Soora
You're the mightiest of all warriors. You're incomparable, oh, warrior.
Nakunna Natyamu Gaka Emivvagalanika Dheera
I am the dancing queen. You are the sole owner of the music that comes from my anklets, oh, warrior.
Nee Kosame Nee Kosame, Nee Kosame Nenadana
Just for you, and only just for you… Shall I dance just for you?
Yenno Sabhalalo Narthinchina,
Many courts have witnessed my dance performance
Nuvvu Mecchithene Dhanyamu
But my performance will be complete and blessed only with your praises.
Nee Kosame Nee Kosame, Nee Kosame Nenadana
Just for you, and only just for you… Shall I dance just for you?
Na Natyamidhi Na Kanukidhi Ee Raju Kosam
This dance is my gift; at all of this is for you, oh, king
Verevvaru Ikkadundatam Theevramaina Dhosham
Anybody else replacing me here will be a sin
Sooryuda Vellipo, Chandhruda Vellipo
Oh, sun, please go away. Oh, moon, please go away.
Meghama Vellipo Pavanama Vellipo
Oh the shining star, please go away. Oh, wind, please go away.
Nirathamu Chese Bharathamu Kadhidhi
This is not a dance to pay obeisance
Sarasuni Kosam Na Tholi Natyamidhey
This is my first performance for my love
Vettaiya Chengottaiya Na Kosame Nenadana
Vettaiyan Sengottaiya, shall I dance just for you?

If you want to understand the meaning and message of Nee Kosame better, you can use the English translation of the lyrics available on our website. The translation will help you appreciate the beauty and sophistication of the Tamil language, as well as the cultural and historical context of the song.
NEE KOSAME MUSIC VIDEO