Nee Yenadharuginil Nee Lyrics with translation from the Tamil movie 'Oh Manapenne' featuring Priya Bhavani Shankar, Harish Kalyan is a snazzy song, and it has an aesthetically pleasing sung by Shakthisree Gopalan. The fancy lyrics of the Nee Yenadharuginil Nee number are logged by Niranjan Bharathi. Vishal Chandrashekhar is the composer of NEE YENADHARUGINIL NEE's likeable music. The dreamy music video of the sound is ordered by Kaarthikk Sundar.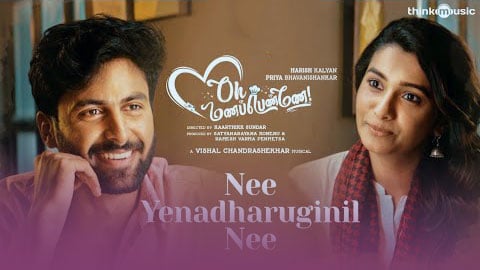 Watch Nee Yenadharuginil Nee Song Lyrics that Shakthisree Gopalan elegantly crooned and are featured in the Oh Manapenne film of Harish Kalyan, Priya Bhavani Shankar . Niranjan Bharathi has introduced the Nee Yenadharuginil Nee Tamil lyrics with translation and Kaarthikk Sundar directed the music video.
OH MANAPENNE TAMIL MOVIE · NEE YENADHARUGINIL NEE SONG LYRICS ENGLISH MEANING
Nee Enadharuginil Nee
You! You beside me.
Idhai Vida Oru Kavithaye Kidaiyadhe
There is no poetry past this
Nee Enadharuginil Nee
You! You in my heart.
Idhai Vida Oru Punidhamum Irukkadhe
There isn't anything Purer than this
Kattril Poo Pola Nenjam Koothadudhe
Like flowers in the breeze, my heart sways
Kangal Pakadha Vekkam Pandhadudhe
With unseen shyness, my eyes hop in happiness
Idhu Varai Theendadha Or Inbam Kai Neettudhe
A bliss like never before Is reaching out
Kanava Nijama Idhu Irandum Thana
Is this a dream, a reality or a bit of both?
Vida Araigindra Thedalgal Thevai Thana
Should one look for solutions that have been solved?
Veyila Mazhaiya Ithu Vanavilla
Is this a bright summer or a dull-winter? Or a rainbow of colours?
Idhai Anaikindra Agayam Nane Nana
Am I the sky surrounding them all?
Kadhal Padidum Padal Nenjoram Kekkindradhe
Love is singing a lullaby. That's only heard in my heart.
Adada Oru Vidha Mayakkam Kannoram Pookkindradhe
Oh, my! A different daze!

Nee Yenadharuginil Nee Full Song | Oh Manapenne
Oh Manapenne Film's Nee Yenadharuginil Nee Music Video | Priya Bhavani Shankar | Harish Kalyan
Make sure to check just out music video for Nee Yenadharuginil Nee from a dreamy movie Oh Manapenne.