Neendan Lyrics – Rupali Feat Ikka & Dr Zeus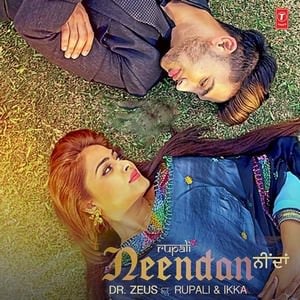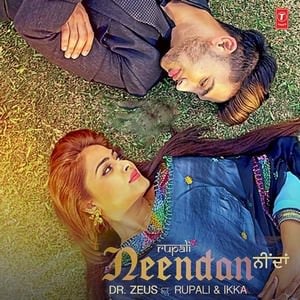 Brilliant music producer Dr Zeus brings us a brand-new love anthem named 'Neendan Lyrics,' which has released under the music label of T-Series
| | |
| --- | --- |
| Song Name: | Neendan (AKA Neenda) |
| Artists: | Rupali, Dr. Zeus, Ikka |
| Music Producer: | Dr Zeus |
| Lyrics Writer: | Jaggi Jagowal |
| Released on: | 10 August, 2016 |
| Music Label: | T-Series |
Neendan Lyrics is romantic Punjabi song in voice of talented female singer

Rupali

, and rap of Ikka Singh.Touching music beats of the song 'NEENDA' are very wel sorted by Dr. Zeus while its amusing lyric are scripted by Jaggi Jagowal, and filmed by Deepak Sharma video director.
NEENDAN FULL SONG LYRICS –  RUPALI Ft. DR ZEUS IKKA
Intro,
Neenda nu khamb lag gaye,
Gaiyan ne maar udari,
udaari …  udaari.
Tere bare sajna sochan main raat ve sari,
Saari …. saari.
Tere nal la baithi,
Tere nal la baithi,
Tere nal la baithi,
Ehnu kehnde je yaari yaari yaari.
Neendan nu khamb lag gaye,
Gayian ne maar udaari udaari udaari.
Neend nahi chain nahi,
Pyar mein padke,
Cheez nahi hoti koi pyar se badhke,
Tere mere beech ki jo doori sataye,
Ik din ki judayi mein hi aashiq tadpe,
Har baat teri sar-aakhon par,
Main fida teri meethi-meethi baaton par,
Mere naam ki lagwa le mehndi,
Bina der kiye baby dono haathon par.
Aakhon ka nasha tero peg Patiala,
Mujhe mili tu main bada kismat wala.
Aashiq kawara hoon main matwala,
Pyar tera-mera heer ranjhe wala.
Tere utte mukde ne mere sare raah ve,
Raab naalo vadda keda sajna gawaah ve [x2],
Tere nal injh lagda,
Jo is jagg te sardari .. sardari sardari,
Tere bare sajjna,
Sochan main raat ve sari sari sari.
Saari saari di saari hi jawa tetho kurbaan ve,
'Jaggi Jagowal' mera iko armaan ve [x2],
Loki taan dil harde,
Main rooh bethi haan haari,
Haari .. haari.
Tere bare sajna,
Sochaan main raat ve saari saari saari.