Nenjorama Lyrics from the Tamil movie 'Madhil Mel Kaadhal' featuring Divya Bharti, Mugen Rao is a stunning song, and it has fascinating performance by Malvi Sundaresan, Pradeep Kumar. The slick lyrics of the Nenjorama tune are summed up by Mohan Raja. Nivas K. Prasanna is the tunesmith of NENJORAMA's darling music. The sunny music video of the warbling is led by Anjana Alikhan.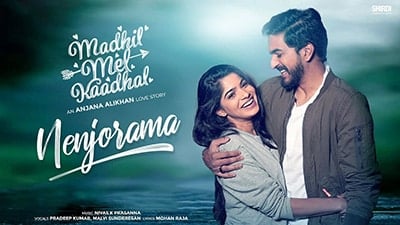 MADHIL MEL KAADHAL TAMIL MOVIE · NENJORAMA FULL SONG LYRICS
Nenjorama Nee Ennai Seiyura
Minsarama Ennai Thakki Pogura
Kannorama Nee Konjam Pakura
Men Sarala Ennai Thottu Pogura
Unnodu Nan Pesa Pesa Pesum Neram
Oduthe Nirkamal Vegama
Un Kangalal Innum Nerungi Pazhaga Solli
Yenguthe En Nenjam Adhigamai
Ayiram Minnalai Pesi Pogirai
Nenjorama Nee Ennai Seiyura
Minsarama Ennai Thakki Pogura
Kannorama Nee Konjam Pakura
Men Sarala Ennai Thottu Pogura
Yarayo Parpathal Ennai Parkayil Vetkam Katura
Jadaye Veesiye Nanum Pesayil Kovam Katura
Ennayo Seigira Nenjaiye Koigira
Koodave Ennaiyum Kootti Pogura
Koormaya Parthu Than Kooru Podura
Un Parvaiyal Ennai Katti Podura
Unnodu Than Kannu Kootti Pogura
Thodamale Nee Theeya Mootura
Vidamale Ennai Neeyum Thedura
Ippothulam Unkooda Kooda Sernthu Poga
Avala En Kalgal Yenguthe
Ennatho Unthan Perai Ketkum Neram
Thullala En Kangal Thirumbuthe
Koopidum Dhooramthil Vazha Thonuthe

Madhil Mel Kaadhal Film's Nenjorama Music Video | Divya Bharti | Mugen Rao
Check out the new music video for Nenjorama from a sunny movie Madhil Mel Kaadhal.
Play the Nenjorama Song Lyrics that Malvi Sundaresan, Pradeep Kumar splendidly hummed and are featured in the Madhil Mel Kaadhal film of Mugen Rao, Divya Bharti . Mohan Raja has inked down the Nenjorama Tamil lyrics and Anjana Alikhan operatedthe music video.