Nikka Zaildar (2016) Punjabi Movie: Ammy Virk | Wiki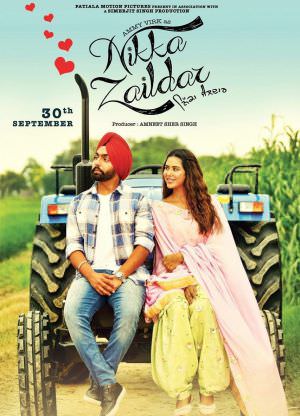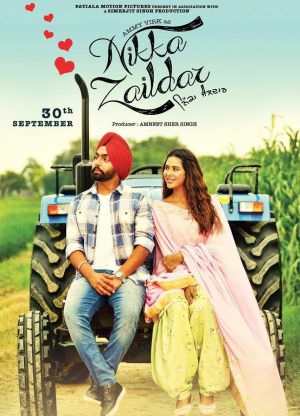 Nikka Zaildar Punjabi Movie by Ammy Virk & Sonam Bajwa,Release Dates of Nikka Zaildar Film Star Cast, Posters, Wiki Info,Videos, Lyrics & Songs From Nika Jaildar 2016 Film Simerjit Singh.
Movie Name: Nikka Zaildar [Punjabi]
Movie Star Cast: Ammy Virk, Sonam Bajwa, Karamjit Anmol, Nirmal Rishi and others.
Film Director: Simerjit Singh 
Producer: Amneet Sher Singh
 Writer: Jagdeep Sidhu 
 D.O.P: Akashdeep Pandey
Production Designer: Raashid Rangrez
Music Producer: Jatinder Shah
Nikka Zaildar Full Movie Release Dates: 30 September, 2016
Editor: Omkarnath Bhakhri
Choreographer: Richard Burton
Associate Producer: Ramneet Sher Singh
Co-Producers: Gurjot Dhindsa & Harsimran Warraich
Presentation: Patiala Motion Pictures in association with A Simerjit Singh Production.
NIKKA ZAILDAR FILM ALL SONGS TRACKLIST & LYRICS:
3. Bach Nayion Sakda – Prabh Gill
4. Bolane Di Lodd Nahin – Happy Raikoti
5. Nikka Zaildar – Karamjeet Anmol
Nika Zaildar Movie Trailer 720P HD
Film Summary: Patiala Motion Pictures in association with a Simerjit Singh production presents 'Nikka Zaildar' a brand-new Punjabi film which stars Ammy Virk and Sonam Bajwa in lead roles.The film is produced by Amneet Sher Singh, written by Jagdeep Sidhu and Jatinder Shah has producer music for background score and soundtracks.Film 'Nikka Zaildar' is all set to release on 30th September of this year.This is going to be 4th Punjabi cinema movie by Ammy Virk, who is looking forward to rule the industry with his incredible acting and dashing looks, Stay tuned for Nika Jaildar Punjabi movie songs, lyrics & videos.