Challenge song with much appreciable lyrics of Sidhu Moose Wala and in compelling vocals of Ninja is a perfect motivational, energetic track. Avex Dhillon is video director and Umesh Karmawala is producer of song. BYG BYRD have produced music for Ninja's brand new song "Challenge Punjabi" and White Hill Music & Entertainment Private Limited released it. You can get meaning of song verses and also English translation of line by line is here.
NINJA'S NEW CHALLENGE FULL SONG LYRICS
Intro,
Photo asle naa' paake
Sher daule utte vaahke
Vaadhu shishe moore jaake jo ladaaku ban de.
Uploading their pictures with weapons,
And having lion tattoos on bicep,
There are lot of them who be fighters in front of mirror.
Jigreyan wale jadon paudne aa bhadaake
Dalle pairi hath laake ne darhaaku ban de,
When the fearless overthrow everything,
Then these brokers run away touching our feet.
Pehlan jakhmi koyi sher
Duja mard daler
Tija bhull ke na lawi ainve gher kalleyan.
First, A wounded lion, secondly a brave man,
And thirdly, you don't mess with me alone yourself.
Mann marzi je teri challdi
Ho diweyan to soorjan nu kari na challenge balleya.
If everything goes by your will,
Still don't dare to challenge the lamps and suns.
Jina 'ch bravery blood khaulde
Facebook utte oh naiyo bolde,
The ones who are brave, their blood becomes agitated,
And they don't debate online on Facebook.
Ainve paali na tu vehm
Asi karde ni rehm
Chup kar time tu tapaa bhaleya.
Do not misunderstand, We never show mercy
Just keep quiet and live your time.
Man marzi je te chaldi
Ho diveyan te suraj'an nu kari na challenge baleya.
Ainvey gairan de siran te chakkida ni att nu
Maut naal bhide hath maar mat nu,
You shouldn't be over-proud in the support of others,
You're playing with your death, being foolish.
Paawe jihde naal paala
Oh Sidhu Moose Wala
Kahton chardi jawani siweyan nu challeya.
BYG BYRD on the beat!
The person you're messing with is Sidhu Moose Wala
Why do you intentionally want to do it in your young age.
Mann marzi je teri challdi
Ho deeweyan to soorjan nu kari na challenge balleya.
If everything is seeming to work as you wish,
It doesn't make you challenge the lamps of suns.
Haase di ni gall eh sauda jaan da
Tu vichaar kar layi
Att deyan bhukeyan shikariyan de naal
Na tu khaar kar layin
Shaati aa steel tetho shaan naiyo honi
Lakh maar kar layi
Jatt taan hasaab doona kar mod da
Bhawein yaari rakh layin
Bhawein vaar kar layin.
It isn't funny, It's about your life so give it a second thought,
With the top level hunters, you don't clash mistakenly,
The chest is of steel, you won't be able to hurt it,
Even you attack thousand times,
Jatt pays it back double, Even you friend with him or strike on him.
Ik vaari hor,    Man marji jey teri challdi
Ho diweyan te surjaan nu kari na challenga balleya.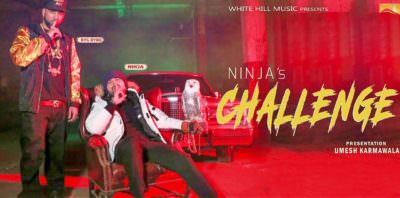 | | |
| --- | --- |
| Album Name: | Challenge (Punjabi) |
| Artists: | Ninja |
| Lyrics writer: | Sidhu Moose Wala |
| Video Director: | Avex Dhillon |
| Music Director: | BYG BYRD |
| Label: | White Hill Music |
| Release Date: | Feb 7, 2018 |