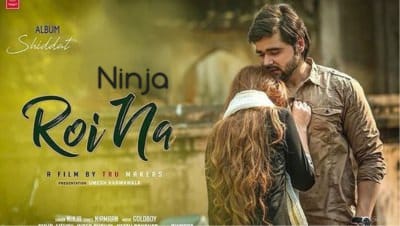 Roi Na Lyrics featuring Inder Chahal, Mehak & Ninja in the romantic-sad Punjabi music video, is a latest song in writing of Nirmaan from the latest album "Shiddat (2017)." This music video has direction from Dilsher Singh & Khushpal Singh.
LATEST SONG ROI NA LYRICS BY NINJA | TRANSLATION
Royin na je yaad meri aayin ve
Khush rahin, Akhan na bhar aayin ve -x2,
Don't cry if you miss me
Try to be happy and don't let tears come into your eyes.
Hoya ki je tu metho door ho gaya
Supna dohan da churo-choor ho gaya
Haan tere naal rahu meri parshayi ve.
Royi na je yaad meri ayi ve
Khush rahi akhan na bhar ayi ve -x2.
What, if you have aparted from me
The dream of two of us have been broken down into pieces
Yeah! My shadow will always be with you.
Teri gali cho ghar shad ke
Dooje mohalle wich ghar pa leya
Sawer di Azaan sun ke
Namaz di jagah te tera naam main leya.
Par meri suni na Allah gair ho gaya
Utton duniya da sade naal
Vair ho gaya.
Vekhi kalleyan kite na rul jayin ve.
After leaving my house from your street
I have built a house in different colony
Listening to morning's Azaan (prayer)
In the afternoon, instead of Namaz,
I just chanted your name
But my God didn't listen to me and abandoned me
Moreover, the whole world has become enemy with me
See, Don't get devastated alone in loneliness.
Roi na je yad meri ayi ve
Khushh rahin akhaan na bharr ayi ve -x2.
Dear, try not to cry if you ever miss me
Just smile and don't make it so tearful.
Vaise taan khayal ve tu apna
Mere bina rakhna sikheya nahi
Jadon mere bina rehna paina ae
Haale oh waqt tainu dikheya nahi.
To take care for ownself
You haven't learned it without me
When you have to live without me
That time you haven't faced yet.
Sahara koi dewe taan ehsaan na layin
Dukh puche je koyi tainu
Mera naam na layin.
If anybody favor you, don't take it
If somebody ask about how is it going?
Don't mention my name there.
Ve Nirmaan jeyonde ji na mar jayi ve.
Royin na je yadd meri aayi ve
Khush raheen akhan na bhar aayin ve.
Oh Nirmaan don't die while living, be doing so
Do not sob while you miss my presence
Cheer and do not let your eyes get wet with tears.
The Punjabi song "ROI NA" with touching lyrics is performed by Ninja and music tune is created by Gold Boy and here you can read line to line meaning / ENG translation.
| | |
| --- | --- |
| Album Name: | Roi Na (from Shiddat) |
| Genre: | Romantic-Sad |
| Actors: | Ninja, Inder Chahal, Mehak |
| Songwriter: | Nirmaan |
| Video Director: | Dilsher Singh, Khushpal Singh |
| Music Director: | GoldBoy |
| Label: | T-series |
| Release Date: | 20 November, 2017 |