Ninnu Chudagane song from the Telugu movie 'Atithi Devo Bhava' featuring Aadi has good lyrics and a graceful English translation with words sung by Anurag Kulkarni. The staggering lyrics of the 'Ninnu Chudagane' track were drafted by Bhaskarabhatla. Shekar Chandra was the music writer of NINNU CHUDAGANE's enjoyable music. The deserving music video of the poesy was targeted by Polimera Nageshawar.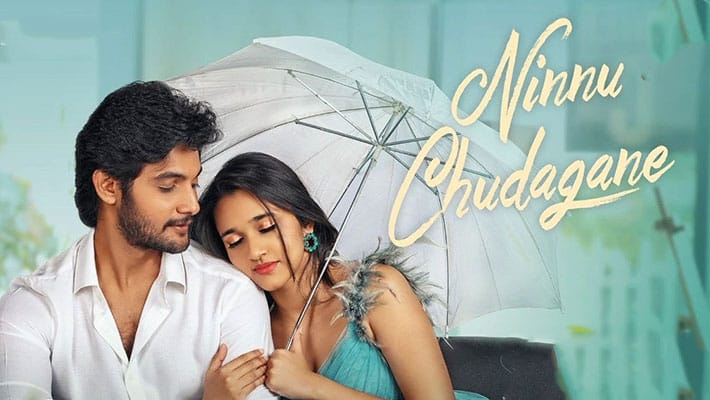 | | |
| --- | --- |
| Track: | Ninnu Chudagane |
| Movie: | Atithi Devo Bhava |
| Backing Vocalist: | Anurag Kulakarni |
| Lyrics Writer: | Bhaskarabhatla |
| Instrumentalist: | Shekar Chandra |
| Director: | Polimera Nageshawar |
| Actor(s): | Aadi, Nuveksha |
| Language: | Telugu to English |
ATITHI DEVO BHAVA TELUGU MOVIE · NINNU CHUDAGANE SONG LYRICS ENGLISH MEANING
Ninnu Choodagane Na Gunde Jarindhe
The moment I saw you, my heart slipped.
Unna Okka Pranam Nee Chuttu Thirigindhe
The life that was left in me roamed around you.
Ninnu Choodagane Ee Kalam Aagindhe
When I saw you for the first time, the time was paused,
Unnattundi Lokam Andhanga Marindhe
The world turned beautiful at once.
Oka Navve Kadha Oka Choope Kadha
It's just your smile and just one glance at me
Inni Chithralu Yento Ila
It worked wonders, don't know how?
Nuvvele Na Shwasa Nuvvele Na Dhyasa
You are my breath and you are my love interest.
Neetho Brathakalanndhi Nadho Chinna Aasha
I have a wish to live with you forever.
Neelo Nannu Choosa Nalo Ninnu Mosa
I saw myself in you and carried your thoughts in me.
Aunanna Nuv Kadhanna Na Manase Neekicchesa
The truth is that I have given my heart to you.
Poota Poota Gurthosthunnave
Every moment you flash in my memory.
Neeti Meedha Nadipisthunnave
You memories make me feel like walking on water.
Katuka Kallathoti Champesthunnave
You are killing me with your eyes.
Nootiki Noorupallu Nacchesthunnave
I am totally in love with you.
Ee Janma Neethone Maru Janma Neethone
This life is with you and next life is also with you.
Vachchi Gundellona Valipove Guvvala
Come and rest in the nest of my heart like a bird.
Nuvvele Na Aata Nuvvele Na Pata
You are my dance and you are my song
Nuvvunte Na Santhoshanni Veyyalenu Kata
When you are with me, my happiness cannot be measured.
Nuvve Unna Chota Kadha Poola Thota
Wherever you stand, it is like a flower garden
Hrudayam Motham Rasichestha Nakem Vodhu Vata
I will give you my heart totally and I don't want any part of it.
Aagi Aagi Nuvve Choosthonte
When you stop and look at me,
Gunde Aagi Aagi Kottukontunde
My heart also stop and beats.
Gajulu Gallumani Chappudu Chesthunte
When your bangles make a noise
Gayathri Manthramedho Vinipisthu Undhe
It's like a sacred devotional verse.
Ee Hayi Nee Valle Ee Maya Nee Valle
This relief is because of you and this magic is by you.
Neelo Nenu Kalisipotha Galilona Themelle
I will dissolve in you like the moist in the air.
Thindi Nidhara Leka Rasha Prema Lekha
I wrote this love letter without having food and sleep.
Enthandhagna Vesesave Manasulona Geetha
You have beautifully injected your love in my heart.
Vandha Yella Dhaka Nene Neeku Thoka
I'll be with you for life.
Nuvvunte Na Life Ki Inka Lene Ledhu Dhoka
If you are with me, my life will be assured with happiness.

Ninnu Chudagane Full Song
Atithi Devo Bhava Film's Ninnu Chudagane Music Video | Aadi
Let's play modern music video for Ninnu Chudagane from a deserving movie Atithi Devo Bhava.
Let's watch Anurag Kulkarni's prettily crooned Ninnu Chudagane Song Lyrics and their meaning which are featured in the Atithi Devo Bhava film of Aadi. Bhaskarabhatla has noted down the Ninnu Chudagane Telugu lyrics and Polimera Nageshawar orientated the music video.