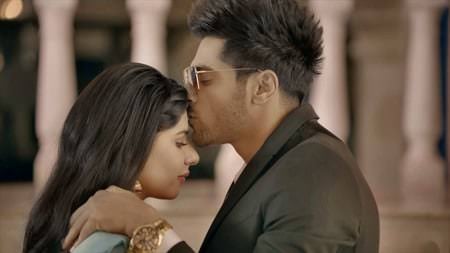 Nira Ishq Ae Tu Lyrics with Translation in English – Guri has performed and jotted down the lyrics to his latest Punjabi song "Nira Ishq." Enjoy the Punjabi song-lines meaning with HD YouTube music video.
NIRA ISHQ AE TU SONG LYRICS TRANSLATION
Haan gucci koi maayiné nai rakhdi,
The luxury Gucci outfits doesn't matter at all,
Gall na kadé kare mere haq di,
While you don't speak-up about my rights.
Mere layi ik pal na tére kol,
You don't have a minute for me,
Gutt té tere ghadi aa ik lakh di,
And you're wearing a watch worth a hundred thousand rupees, It's worthless for me.
Tére láyi sari duniya gáah'ti main,
Ve tu nai tákda mainu,
I've Searched for you in the whole world yet you don't notice me.
Haayé ve sári duniya gaah'ti mai,
Ve tu náyi takda mainu,
Nirá ishq ae tu, naa pata tainu,
At your best, you're love and you don't know that.
Máin teré agge piche, na takke mainu,
I'm around you and you don't seem to notice me.
Oh mére dil ch ikko reejh ae, réejh kárde puri meri,
I have an only wish, please fulfill it,
Main sari umar layi bán ke rehna, réhna ae guri teri,
That I want to be yours forever.
Ve kithe rehna aé, Ve kih'na behná ae,
Kithe rehna áe, kihdé naa' behna ae,
Dear, Where do you live nowadays? Who do you sit with?
Ik wari dás ja sanu,
Tell me once, dear.
Niraá ishq ae tu, ishq aé tu, ishq ae tu,
You're love at your best.
Tere hath vich háth howé mera,
I Wish, i had my hand in yours,
Tere té ik vaas howe mera,
I Wish, I could have some control over you.
Mere ton koyi sohni miljé je,
And also if you meet any girl prettier than me,
Ohde layi dil dhádke na tera,
She could never strike your heart.
Dine taan mainu disda har tháan tu,
I see you everwhere during the day,
Te raati supnéya wich vi tu,
Even you're in my dreams at nights.
Nira ishq áe tu, na pata tenu,
You are love, at your best while you're not aware of it,
Main tere ággay pishay, na tákkay mainoo,
I am after you and you don't bother to look at me.