Noolupoya is a meaningful Malayalam song and has relevant lyrics from the 'Trance' movie. Get to know the meaning of songlines in the English language. The vocalists who lent their vocals for the consequential track are Pradeep Kumar with Mohammed Maqbool Mansoor, Jackson Vijayan & Varun Sunil. Vinayak Sasikumar is the lyrics writer for 'Noolu Poya lyrics' from Trance film feat. Nazriya Nazim & Fahadh Faasil.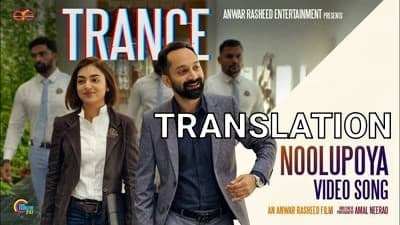 | | |
| --- | --- |
| Song Name: | Noolupoya (Malayalam) |
| Album: | Trance (2020) |
| Singer(s): | Pradeep Kumar, Mohammed Maqbool Mansoor, Jackson Vijayan, Varun Sunil |
| Lyrics Writer(s): | Vinayak Sasikumar |
| Music Director(s): | Jackson Vijayan |
| Video Director(s): | Anwar Rasheed |
| Actor(s): | Fahadh Faasil, Nazriya Nazim |
NOOLU POYA SONG LYRICS | ENGLISH MEANING | TRANCE MOVIE
Noolu Poya Noolu Pattangal, Pariyodum
As hundreds of loose kites flutter away and fade.
Vanamay Mari Njanitha, Thengunnunde,
I become that empty sky that mourns their loss.
Kaithangilla Vanil Ekanayi,
There is no helping hand in this world; I am all by myself.
Thane Theertha Komarakkola Kettiyadi,
Wearing this mask I made myself, I dance.
Ennil Ninnu Thenju Manju Poy, Nanam Polum,
Everything fades from within me, even shame.
Kalavara Pathi Pakuthi Doorathu Theernne, Njanen Vanam,
My destiny has ended halfway;
Vidhikalinnonnay, Oru Dinam Vanne,
Even then, I deal with fate fighting it and moving ahead.