Nuvvunte Lyrics by Sagar, Sumangali with English translation. Aarya Telugu movie featuring Allu Arjun. Read now nuvvunte arya lyrics English meaning.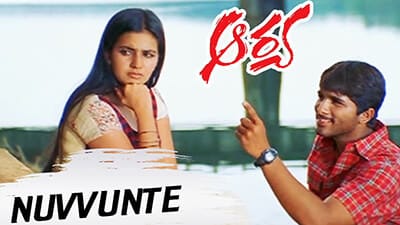 | | |
| --- | --- |
| Song Name: | Nuvvunte (Telugu) |
| Album/Movie: | Arya (2004) |
| Singer(s): | Sagar, Sumangali |
| Lyrics Writer(s): | Sirivennela Seetharama Sastry |
| Music Director(s): | Devi Sri Prasad |
| Music Video Features: | Allu Arjun, Anu Mehta, Siva Balaji |
AARYA TELUGU FILM – NUVVUNTE SONG LYRICS ENGLISH MEANING
Yedo Priya Ragam Vintunna Chirunavullo,
Prema A Sandadi Needena,
Yedo Nava Natyam Choostunna Sirimuvvallo,
Prema A Savvadi Needena,
I'm hearing a song of love in your smiles.
Love! Is it your disturbance?
I'm seeing a new dance in your anklets.
Love! Is it your sound?
Ittage Kalakalam Choodalanukuntunna,
Itupaina Ee Swapnam Kariginchaku Emaina,
Prema O Prema Chirakalam Navente,
I want this to continue for a long time.
Don't ever disturb this sweet dream?
Love! If you stay with me for a long time.
Nuvvunte Nijamega Swapnam,
Nuvvunte Prathi Mata Satyam,
Nuvvunte Manasanta Edo Theeani Sangeetam,
If you are with me every dream is true, every word is truth.
It's sweet music in the heart when you are with me.
Nuvvunte Prathi Adugu Andam,
Nuvvunte Prathi Kshanamuu Swargam,
Nuvvunte Ika Jeevitamantha Edo Santosham,
If you're with me, every step is beautiful.
Every minute is heaven if you're with me.
If you're with me it's happiness aII my life.
Pata Padada Mounam Puri Vippi Adada Pranam,
Adavinaina Poodota Cheada Premabatalo Payanam,
Darichoopada Soonyam Arachetha Valada Swargam,
Elladati Paravallu Thokkada Velluvaina Anandam,
When silence sings, Won't my life come alive dancing?
Won't wild forest flowers take to the path of love?
Won't void show you the path?
Won't heaven come into your fist?
Won't happiness break barriers and run wild?
Prema Nee Sawasam Na Swasaku Sangeetam,
Prema Nee Sannithyam Na Oohala Samrajyam,
Prema O Prema Gundello Kalakalam,
Love! Your presence is my lifeline.
Love! Your companionship is my kingdom of the imagination.
Love! If you stay in my heart for a long time.
Nuvvunte Prati Asa Sontham,
Nuvvunte Chirugale Gandham,
Nuvvunte Yendaina Kada Challani Sayantram,
Nuvvunte Prathi Mata Vedam,
Nuvvunte Prati Paluku Ragam,
Nuvvunte Chirunavvulathone Nindenu Ee Lokam,
If you are with me, every desire will be fulfilled
If you're with me, a gentle breeze will be fragrant.
Won't hot sun become cool evenings if you're with me?
If you're with me, every word is Veda.
If you are with me every word uttered is a song.
If you're with me, my world will be filled with smile.
Unnachota Unnana Akasamandukunnana,
Cheliyaloni Ee Kottha Sambaram Naku Rekka Thodigena,
Munigi Theluthunnana Ee Mucchataina Muripana,
Ameloni Ananda Sagaram Nannu Munchu Samayana,
Standing where I was, I've touched the sky.
New facets of change in my girl friend,
has developed wings to my imagination.
Am I drowning myself in the river of happiness?
When the sea of happiness in her is drowning me, the rainbow is overlapping me.
Harivillee Nannallee Ee Rangulu Nee Valle,
Sirimallela Vagalle Ee Vennela Nee Valle,
Prema O Prema Idi Saswatamanukona,
The colors are because of you only.
This cool jasmine filled moonlit nights are because of you only.
Love shall I take it as permanent.
Nuvvunte Digulantuu Rade,
Nuvvunte Velugantuu Pode,
Nuvvunte Mari Matalu Kooda Pataipothaye,
Nuvvunte Edurantuu Lede,
Nuvvunte Alupantuu Rade,
Nuvvunte Ee Kashtalaina Entho Ishtale.
If you're with me, no anxiety will come to me.
If you are with me, the light will never fade away.
If you're with me, even words will become songs.
If you're with me, there's no defeat for me.
If you're with me, I'II never get displeased.
If you're with me, any difficulty is pleasure to me.

NUVVUNTE MUSIC VIDEO – ARYA TELUGU MOVIE