Recently the controversial track Kalankini Radha female version was featured in Bulbbul movie. It is a fictional Indian Hindi-language drama film that Anvita Dutt has written & directed. The movie features Tripti Dimri as Bulbul, Avinash Tiwary as Satya, Paoli Dam as Binodini, Rahul Bose as Indranil/Mahendra, and Parambrata Chattopadhyay as Sudip. Anushka Sharma and Karnesh Sharma are the producers of the Bulbul Hindi movie distributed by Netflix.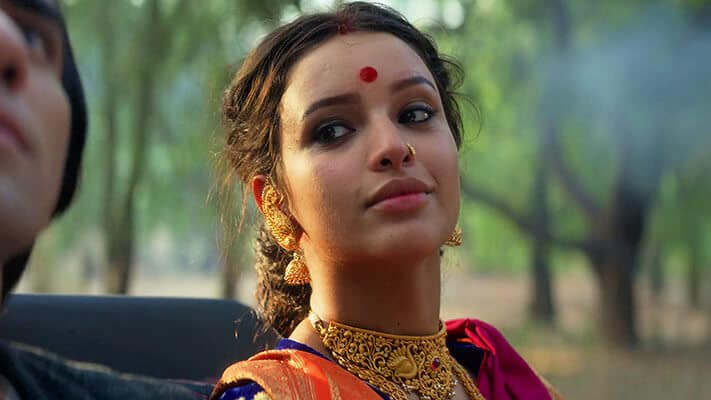 Kalankini Radha is an old Baul song, and its lyrics refer to the story of Radha and Krishna. Kalankini means an ill-reputed person, particularly one who is known for illegitimate romance.
"Kolonkini Radha" is a folk melody of East Indian heritage. The song sheds light in the 'Raas Leela' chapters on the love-play of Radha and Lord Krishna, where Radha is vulnerable to the naughty pranks of Krishna, who sits on a tree to catch sight of her bathing in the pond below. Her friends (Sakhees) alert her to be cautious of 'Kanu' or Lord Krishna before she is given the degrading title of 'Kolonkini Radha.' The word Kolonkini has many meanings, but in this situation it would mean a shameless woman (or indecent, outrageous), demonstrating a woman's control over her desires and the pulls of the moods of society.
KALNKINI RADHA SONG LYRICS ENGLISH MEANING – BULBUL MOVIE
Mai He Kalankini Radha,
Oh, my! you ill-reputed Radha.
Kadam Gashe Uthiya Ache Kanu Haramjada,
On the Kadam tree, the playful Krishna (Kaanu) awaits you.
Mai Tui Jole Na Jai'o,
Don't go to pick up the water. I beg of you.
He Kalankini Radha,
O' ill-reputed Radha.
Kadam Gashe Uthiya Ache, Kanu Haramjada,
The playful Krishna (Kaanu) is waiting for you on the Kadam tree.
He Mai Tui Jole Na Jai'o,
Don't go to pick up the water.
KOLONKINI RADHA FEMALE VERSION
Because of the popularity of the catchy Bengali lyrics, the Kalankini Radha Jole Na Jaiyo, various Bengali singers have sung the Bangla, Assamese song with their improvised versions. Karthik Das, Pota, Ditipriya & Ananya Chakraborty are one of the vocalists known for their notable Baul Gaan cover versions. Radharaman Dutta is the songwriter of Bengali song's controversial lyrics.
Learn the meaning of 'O Kalankini Radha Song Lyrics' from Anvita Dutt Guptan's directed Bulbbul movie. Above is the complete translation of Bengali lyrics to Kolonkini Radha folk track in English.