"Off Roading" by Khan Bhaini is a soulful Punjabi track that takes you on a lyrical journey through life's philosophical musings. Khan Bhaini, who both sings and pens the song, delivers it with heartfelt emotion, adding a personal touch to the lyrics. The track's simplicity and meaningful verses resonate with listeners, creating a harmonious connection.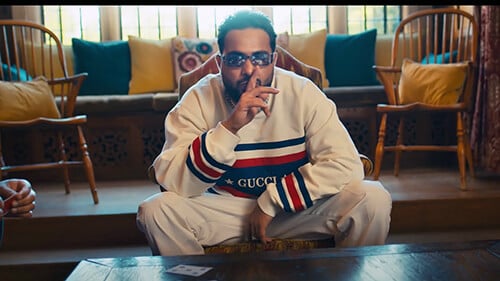 In the lyrics of Off Roading, Khan Bhaini beautifully encapsulates that in life's journey, we often encounter people who lose themselves trying to impress or assert themselves as superior. This profound observation is a testament to the singer's keen understanding of human nature. His willingness to help those in need, regardless of his path, reflects a commendable sense of empathy and humility.
The song also invites a girl to visit Khan Bhaini's village, offering a glimpse into his way of life. This invitation, combined with his tales of his tribe's approach to both joy and sorrow, adds a layer of cultural depth to the song. It's an invitation not just to a place but to a whole world of experiences and emotions.
OFF ROADING SONG LYRICS
Oh🙀 Ese Karke Har Ek Nu Na Lawan Balliye Nehde
Oh Rabb Hi👋 Bann Ke Beh Jande Aa Dil Nu Lag Jan Jehde
Yaran Ton Kithe Soch Hunda Kon Apna Kon Begana
Jihnu Load Hundi Hath Faddle Apne Rah Main Tureya Janda
Ke Qismat Mitran Di Changi Balliye
Jivein Kole BaithKe Likhayi Hoyi Aa
Ke Likhta Jo Janda Ni Mitaya Mudke
Gall Ikko Aa Dimag Ch Bithayi Hoyi Aa
Ni Bheed Vich TureHi👋 Ni Pehle Din Ton
Tan Hi👋 Gaddi Kache Kache Payi Hoyi Aa
Paise Da Vi Haq Ni Begana Balliye
Ajj Tak Jinni Ku Kamayi Hoyi Aa
Bade Kehnde Hath Marla Paise Nu Mitra
Main Ki Karna Rakane Main Te Pehlan Ee Rich💰 Ni
Akh Akhan Vich Pa Ke Karan Face🐷 De Utte
Gall Gol Ni Karidi Mehfilan De Vich Ni
Bade Mile Chahon Wale Mitran Nu Balliye
Raz Karde Aa Yaran De Dilan Vich Ni
Befikra Jo Motor Te Saunda Balliye
Ohnu Neend Kithon Auni Hotel-an De Vich Ni
Tu Vehli Ho Ke Mari Kade Gehda Balliye
Tenu Dasange Jyonde Kivein Yar Zindagi
Aithe Dukh Sukh Doni Aa Barabar Kude
Badi Simple Jahi Life🐣 Aa Rakane Pind Di
Tu Char Din Chandigarh La Ke Balliye
Desi Living🏄 Style Aa Yaran Da Nind Di
Ni Ehton Bad🤢 Nehra Bas Nehri Aa Kude
Tere Shehar Di Aa Chaanani Rakane Bind Di
Ho Tere Lambe Bade Future📅 Plan Goriye Te
Assi Ajj Ch Jeyon Wale Bande
Teri Poli Aa Skin Pashmina Nal Di Te
Assi Tibbeyan De Pakhde Jahe Kande
Ke Sade Nal Nibhauni Badi Aukhi Goriye
Ke Laun Nu Tan Sara Hi👋 Punjab Firda
Tu Time🕒 Nal Aalne Nu Mud Ghuggiye
Ni Uddeya Shikar Utte Baaz Firda
Ja Mithiyan La Shehari Jatt Patt La Kude
Kithe Ladan Nal Pindan Da Jawak Birda
Tere Necklace Vich Heere Goriye
Te Sade Layi Aa Teji Hi👋 Taj Sir Da
Tu Dekhi KiteReh Ji Na Rakane Shakk Ch
Ghanta Mitran Da Painda 12-13 Lakh Ch
Ni Vairi Aa Hairan Kar Rakhe Goriye
Ni Jeb'an Ch Ni Rakhida Nasha Aa Ankh Ch
Jithe Bhidan Hiq Zor Nal Bhidi Da Goriye
Aivein Badkan Ni Mariyan Begani Chak Ch
Kheti Badi Kitte Nu Belong Kariye
Rukh Paniyan Da Morh Daiye Iko Takk Ch
Main Suneya Tu Padhdi Kitaban Badiyan
Te Gabru Ch Aise Kujh Gun Kudiye
Zindagi Nal Rehna Hi👋 Ni Shikwa Koyi
Tu Thode Din Bhaini Wala Sun Kudiye
Ni Khaure Kehri Yaran Diyan Bunu Kotiyan
Unjh Badiyan Ne Supne Laye Bunn Kudiye
Sadde Tin Mint Gabru Nu Suni Gaur Nal
Kidan Jeyone Aa Na Puchi Kade Hun Kudiye
"Off Roading" is more than just a song; it's a heartfelt reflection on life, relationships, and the genuine human connections we often miss in a fast-paced world. Khan Bhaini's ability to express these sentiments through his lyrics makes this track a musical gem. The simplicity of the composition only adds to its charm.
OFF ROADING MUSIC VIDEO
In conclusion, "Off Roading" is a captivating musical narrative that explores life's intricate facets. Khan Bhaini's lyrical prowess and soul-stirring rendition make this track a poignant addition to Punjabi music. The song's message of staying true to oneself while being open to others is thought-provoking and heartwarming.
SONGS FOR YOU
Raidan — Khan Bhaini
BBBB — Khan Bhaini
Numb — Khan Bhaini
OFF ROADING SONG DETAILS
Track Name
Off Roading
Singer(s)
Khan Bhaini
Lyrics Writer(s)
Khan Bhaini
Composer(s)
Guri nimana