Oh Baby Title Song Lyrics featuring cutest star 'Samantha Akkineni' is another entertaining song from her latest movie 'Oh Baby.' Mickey J Meyer is composer of music and the appreciable vocals are contributed by Anurag Kulkarni with the appealing lyrics in songwriting of Lakshmi Bhupala.
NOTE: English translation for Oh Baby Full Song are live now.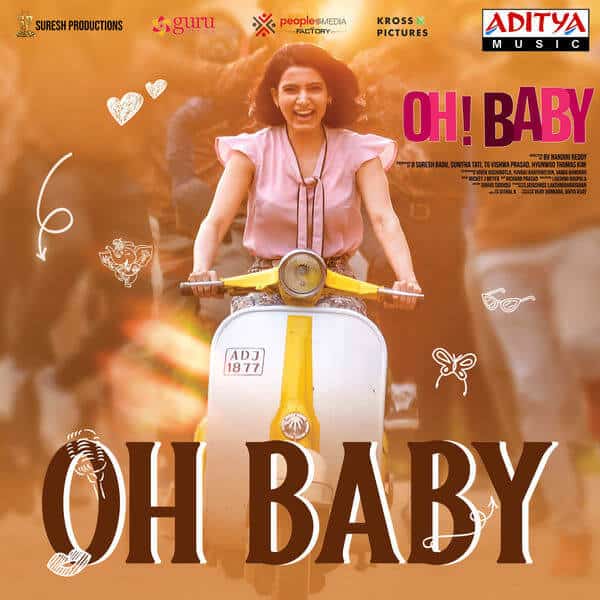 Name of Song: Oh Baby Title Song (Telugu)
Movie Name: Oh Baby (2019)
Singer: Anurag Kulkarni
Lyricist: Lakshmi Bhupala
Music Director: Mickey J Meyer
Actors: Samantha Akkineni, Naga Shourya
Label: © 2019 Aditya Music
SAMANTHA – OH BABY TITLE SONG LYRICS
Edo! Edo! Ulkanerugaa
Bhumi Paina Vaalaga
Baby Avatarinchey Adigo.
Edo! Edo! Ulkanerugaa
Bhumi Paina Vaalaga
Baby Avatarinchey Adigo.
Ulanth Vettakaaram,
Puttinth Suryakatham
Aakaram Tuneega
Muttukuntey Kandireega!
O Baby (X14).
Black And White Dorasani,
Trendigaa Maare Kahani,
Aladdin Deepamla,
Doragindi Malli Javaani,
Wildcard Entrylo,
Nee Life Ki Nuwe Rarani,
Daachukunna Aasa Vihamgamla,
Prapanchaanney Jayimchali,
Lokamlo-Ee-Vinta Jarigndaa
Epudinaa Nakkatoka Tokki Nattu Gadiyaaram Mulledo
Rutumari Tiriginattuga.
Oh Baby (X7).
Suryoodayina Neevaipu,
Sun-Glass Petti Chudaali,
Moon Walk Tok Baby,
Vesthunde Eele Kattali,
Movie Stars Neekosam
Pichholayi Quele Kattali,
Enta Maripoye Overnight'e
Baby Route'a Super Cute-A,
Ee Maaya Kanikattaa
Inkotaa Anukuntu,
Pichi Prasnaleyakundaa,
Enjoy-A Cheyali,
Life Neeku Nachhnattugaa,
Oh Baby (X14).
Edo Edo Ulka Naruga,
Bhoomi Paina Vaalaga,
Baby Avatarinche Adhigoo,
Here she comes like a comet,
Streaking across the sky,
Baby is here.
Vulo Anta Vetagaaa Ram,
Putindi Suryakantam,
Aakaram Tuuneega
Muttukunte Kandireega!
The queen of sarcasm,
Here she comes,
Fluttering like a butterfly,
Stinging like a bee.
Oh! Baby Oh! Baby
Black & White Dorasani,
Trendigaa Maare Kahaani,
Aladdin Deepamla Dorikindi,
Malli Javanee,
The vintage queen Has become a trendy lass.
It's like Aladdin's lamp worked its magic.
And she got her youth back.
Wild Card Entrylo Nee Life Ki,
Nuve Raa Raani,
With a wild card,
She's become the queen of her destiny.
Daachukunna Aasa Vihamgamlaa,
Prapamchaanne Jayimichaali,
Lokamlo Ee Vinta Jarigindaa,
Epudinnaa Nakkatoka Tokinatu,
Gadiyaram Mulledoo Rootumaari Tiriginattuga,
May all her hidden desires Conquer the world
Nothing like this has ever happened before
Is the clock ticking backwards?
Oh! Baby
Oh! Baby!
Suryudaina Nee Vaipu,
Sun Glass Petti Choodaali,
Moon Walk Tho Baby,
Vatuntay Elay Kotali,
You shine so bright,
The sun needs sunglasses.
When you moonwalk,
We are held spellbound.
Movie Stars Neekosam,
Pichholai Quele Kattali,
Enta Maripoye Over Night,
Baby Routea Super 'Cute,
Movie stars should ask for your autograph
Oh, how you've changed overnight!
You've become super cute.
Ee Maaya Kanikattaa Inkotaa,
Anukuntu Pichhi Prasna Leyakundaa,
Enjoy Cheyali Life Neeku, Nachhinattuga,
Be in the moment,
Forget all the silly questions.
Enjoy your life as you wish.
Oh! Baby Oh! Baby!
Lyrical music video.
Oh Baby Full Video Song featuring Samantha Akkineni.