Oh Bande is an energetic gangster anthem with compelling Punjabi lyrics hummed by Dilraj Dhillon. Bill Jahangir is songwriter and music production of song is from Shagur.
OH BANDE SONG LYRICS – DILRAJ DHILLON
Ho thaane ate gym aa takaane jatt de
Teri height naalo lamme aa rakaad bolde,
Haddan wich gaarha khoon naiyo dabbda
Tere jahe velly pehlan bade chande aa,
Ho jina naal rehndi teri bebe rokdi
Jatt de group wich oh bande aa.
Shagur!
[Extra verse – Only included in original audio song]
Ho knowledge vi full rakhidi kanoon di,
Qaidiyan ton judge-an de yaraane kaim ne,
Roti-tukk ton pehlan na kade ghare parte,
Yaaran naal mehfilan layi khulle time ne.
Ho area ch mudd ton hi naam khadke
Sardari aale kaim sadaa rakhe jhande aa.
Ho jina nal rehndi tere bebe rokdi
Jatt de group vich oh bandey aa.
Ho laandear kolon miliyan daleriyan
Painde parche jattan te odon cha charde,
Ho mauke utte kanda kadd daiye vairi da
Putt jattan de engine reejh naal karde.
Oh chaaplusi naiyo wagdi taseer ch
Arhab subha de yaar naiyo thande aa.
Ho jihna nal rehndi teri bebe rokdi
Jatt de group vich oh bande aa.
Mud jande ae summon putha high-court da
Munde modeyan na mud de ni Jahangir de,
Bill Jahangir yaariyan ton khoon dolda
Jelly, Sansaar Sandhu velliyan de peer ne.
Ho tere weight jine kite khaali khol paye aa
Putt mangwe sandha na vairi naiyo tangeya.
Ho jina naal rehndi teri bebe rokdi
Jatt de group wich oh bande aa.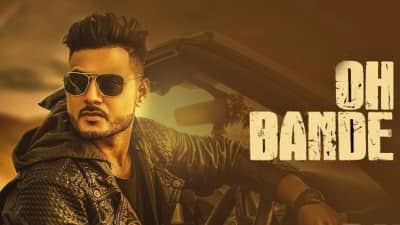 Singers: Dilraj Dhillon
Music Director: Shagur
Song Name: Oh Bande (Punjabi)
Lyrics Writer: Bill Jahangir
Video Director: Only Jashan
Label: Los-pro
Find out more Punjabi Songs like '' from Only Jashan.