Oh Maya Lyrics – N.C. Karunya & Ramya NSK | Iru Mugan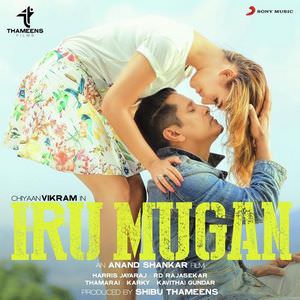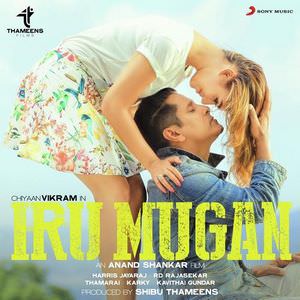 Oh Maya Lyrics is romantic song featuring Vikram with Nayanthara from new Tamil film 'Iru Mugan.' The soothing track is sung by N.C. Karunya & Ramya NSK, composed by Harris Jayaraj and got written by Thamarai.
Song Name – Oh Maya
Singers – N.C. Karunya & Ramya NSK
Movie – Iru Mugan
Music – Harris Jayaraj
Lyrics – Thamarai
Music Label – Sony Music Entertainment India Pvt. Ltd.
Iru Mugan – Oh Maya Song Lyric Ft Vikram, Nayanthara
Haiyyo nenjilae, aadum oonjalae
innaal vaanilai adada ada adada.
Aha vaanilae, paadhai yaerudhae
paniyaai maarudhae, adada ada adada.
Kannum kannumae, pesum neramaey
vaarthai enbadhae, ini vendaamey,
otti kollavae, vaa en pakkamae,
pakkam enbadhum, ingae dhoorame,
aezhaezhu piravigall naanunnai
thodarndhu vandhaen,
yaenadi en thaedalai,
ariyaamal ponaai.
Vaan meedhu enai unakena minikkiyavan,
yaenadi en minminiyai paarkkaamal ponaai.
Oh maya megam neeyaa,
oh maya mogam theeyaa,
kannae kadhali, kadhal maarvali
kaayam aavadhaa, kannai thaalthu ne.
Muththam neeyadi, saththam naanadi
naanam vandhadhaal, nagarum vaanmadhi.
Unnai enniyyae, naatkal ponadhae
ugam seivahae, uvagai aanadhae
kaalam koodudhae, kaigal serudhae,
kaigal servadhae, kanavaai thondrudhae.
Unnaal pala iravugal irakkamillai,
paadhiyilae un kanvizhithu,
unnai thaedi paarthaen.
Indrodu en thanimaigal mudindhuvidum
naan vizhithaal, nee iiruppaai
unai alli serppaen.
O maaya megam neeyaa,
o maaya mogam theeyaa.
Instrumentals brake,
vaanin neelamae, kadalin aalamae,
kaattrin seelamae kadhal aagumae,
naanum neeyumae, vazhum vazhvilae
kaalam thaandiyum, kadhal neelumae
naanum maarinaen, needhaan kaaranam kaetpen
viralil modhiram.
Ennai unnidam, thandhaen seedhanam,
aadum en manam, adayum aanandham
un veettil, ini enakoru
arai irukkum naan irukkum
naal varaikkum ada neeyum iruppai.
Un thozhil, malar kodi ondru
padarndhirukkum nee thaelikkum neer inikkum
thandhu adaippaai.
Oh haa, megam neeyaa
mogam theeyaa,
oh maya megam neeyaa,
oh maya mogam theeyaa.