Oh Sita Hey Rama Lyrics with meaning from the Telugu movie 'Sita Ramam' featuring Mrunal Thakur, Dulquer Salmaan is a charming song, and it has a beauteous vocal music by Ramya Behara, S.p.b. Charan. The supreme lyrics of the Oh Sita Hey Rama ballad are logged by Ananth Sriram. Vishal Chandrasekhar is the inventor of OH SITA HEY RAMA's choice music. Hanu Raghavapudi administers the high-class music video of the tune.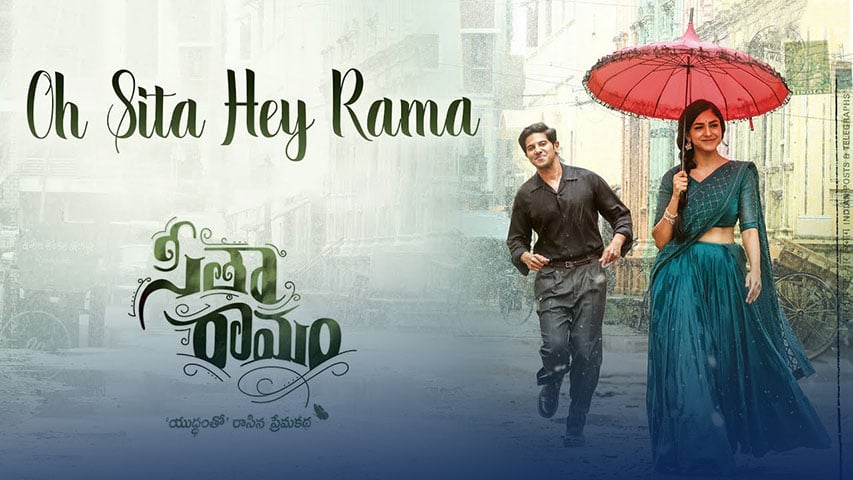 Let's watch Oh Sita Hey Rama Song Lyrics that Ramya Behara, S.p.b. Charan trimly crooned and are featured in the Sita Ramam film of Dulquer Salmaan, Mrunal Thakur . Ananth Sriram has noted down the Oh Sita Hey Rama Telugu lyrics with meaning and Hanu Raghavapudi led the music video.
SITA RAMAM TELUGU MOVIE · OH SITA HEY RAMA FULL SONG LYRICS
O Sita Vadhalanika Thodavutha
Oh, Sita, I will be your companion
Rojantha Velugulidu Needavtha
I will be your day and night shadow
Dharai Nadipene Chethi Geetha
The lines on the palm play the guide,
Cheyi Viduvaka Sagutha
I shall walk never leaving your hand.
Theeram Thelipene Nudhuti Ratha
Destiny has defined the shore
Nuduta Thilakamai Valutha
I shall become your life-long partner
Kanulalo Merupula Tharade Kalani Nenavtha
I shall be the dream That ripples like a sparkle in the eye.
Hay Rama Okariki Okaravuthama
Hi, Rama, are we made for each other?
Kalamtho Kalisi Adugesthama
Will we walk step in step with time?
Reypem Jaruguno Rayagalama
Can we write what will happen tomorrow?
Rasey Kalamula Maruma
Be the pen that writes it
Jantai Janmaney Geeyagalama
Can we paint life together?
Geese Kunchene Choopuma
Show me the brush.
Merupulo Urumula Dagunde Nijamu Choodamma
'Thunder hides in lightning Watch out, dear
O Sita Vadhalanika Thodautha
Oh, Sita, I will be your companion
Hay Rama Okarikokarauthama
Hi, Rama, are we made for each other?
Neyruga Paiki Thelupani Palukulanni Nee Choopule
Ask me in my sleep and I say nothing but your name
Nelapai Valuthunnavi Adugu Aduguna Puvvulai
You know it's a life time job and yet you tarry
Oh Vaipemo Opaleni Maikam
A sweet pain that was never before
Laguthondi Maruvaipu Lokam
The moment is here to be a yes man
Emi Thochani Samayamo, Edhi Telchani Hrudayamo
Time, be kind to me Join us how dreams and sleep do
Emo Bidiyamoni Mmamonanna Golusu Peremo
Let me work for the man I worship show me your miracle

Oh Sita Hey Rama Full Song | Sita Ramam
Sita Ramam Film's Oh Sita Hey Rama Music Video | Mrunal Thakur | Dulquer Salmaan
Let's stream freshly released music video for Oh Sita Hey Rama from a high-class movie Sita Ramam.